MELBOURNE, AUSTRALIA, Apr 5, 2023 - (ACN Newswire) - Mitrade, the leading online CFD trading platform, has announced the launch of Mitrade Academy. Mitrade Academy is designed to cater to traders of all levels, providing them step-by-step guidance in their respective learning journeys. Users are able to access a wide range of interactive courses, tutorials, and resources that cover all aspects of trading. The academy can be accessed via web and mobile browser.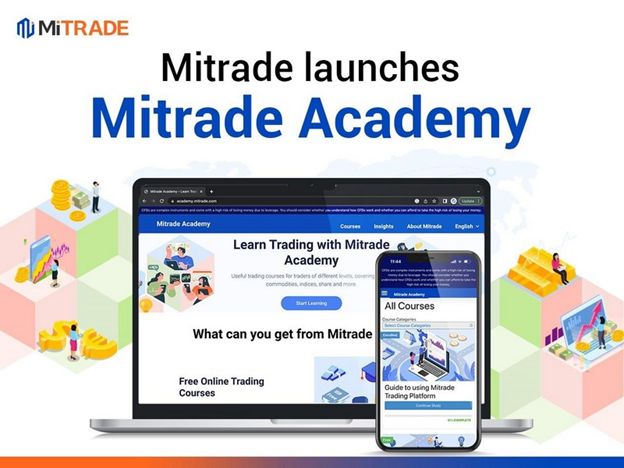 Mitrade Academy's key feature offers the ability to save progress and resume anytime anywhere. This feature enables learners to continue their studies from where they left off, regardless of the location or the device they are using. On top of that, users are able to use one account to transition seamlessly between education to application. Enabling them to reinforce their learning by putting theory into practice immediately.
The development of Mitrade Academy is led by a team of trading experts, with their experience and dedication to helping traders succeed in the markets, the team is committed to achieving Mitrade's goal of offering a simplified trading experience through the academy. You can start learning about trading here.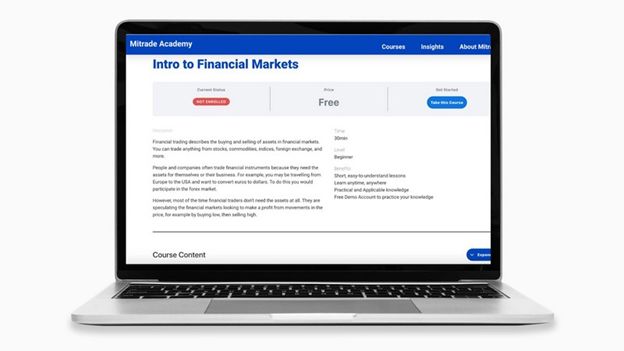 Wide range of trading courses available
Mitrade Academy offers an extensive range of courses that cover various aspects of trading, including technical analysis, risk management, and trading psychology for all levels. The courses are interactive and feature practical examples and case studies to help traders apply what they have learned to real-world trading scenarios. Mitrade Academy plans to release new courses every month, providing traders with a consistent stream of fresh learning materials.
Learn at your own pace
Mitrade Academy recognizes the difficulty of finding the time to finish an online course. That's why the platform is designed for utmost accessibility and allows users to save their course progress and pick up where they left off at any time, anywhere. Individuals can conveniently revisit course materials, making it the ideal solution for those with limited free time.
How To Start Learning With Mitrade
Create an account with Mitrade by clicking here.
Head over to Learn > Academy
Hit "Start Learning" and view the wide range of trading courses that Mitrade offers.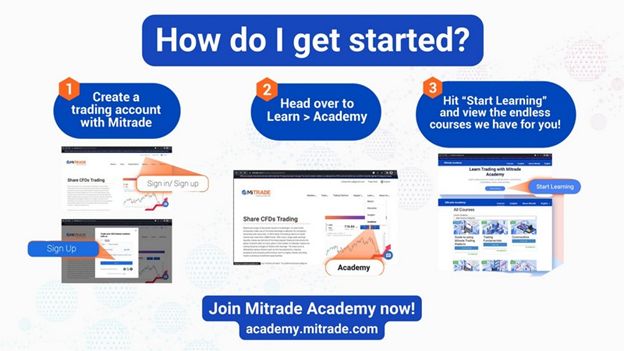 About Mitrade
Mitrade offers access to a wide range of financial instruments, including forex, indices, commodities, and cryptocurrencies. The platform is user-friendly, intuitive, and features advanced trading tools and features that cater to the needs of traders of all levels. Mitrade is committed to providing its users with a secure and reliable trading environment and offers 24/5 customer support to assist with any queries or issues.
To start learning with Mitrade Academy and experience the fun and engaging way to trade, please visit Mitrade Academy.
Social Links
Facebook: https://www.facebook.com/MitradeOfficial
Twitter: https://twitter.com/MitradeOfficial
LinkedIn: https://www.linkedin.com/company/mitradecom/
Instagram: https://www.instagram.com/mitrade_official/
YouTube: https://www.youtube.com/c/Mitradeglobal/
Media Contact
Brand: Mitrade
Contact: Media team
E-mail: branding@mitrade.com
Website: https://www.mitrade.com/
SOURCE: Mitrade


Copyright 2023 ACN Newswire. All rights reserved. www.acnnewswire.com