AN EXCLUSIVE GALA DINNER AND PRESENTATION CEREMONY WILL BE HOSTED IN MELBOURNE FOR THE 2023 EDITION

SYDNEY, AU, Apr 28, 2023 - (ACN Newswire) - The PropertyGuru Asia Property Awards (Australia) programme officially opened its sixth edition in 2023 as overseas property seekers return to the renowned investment destination.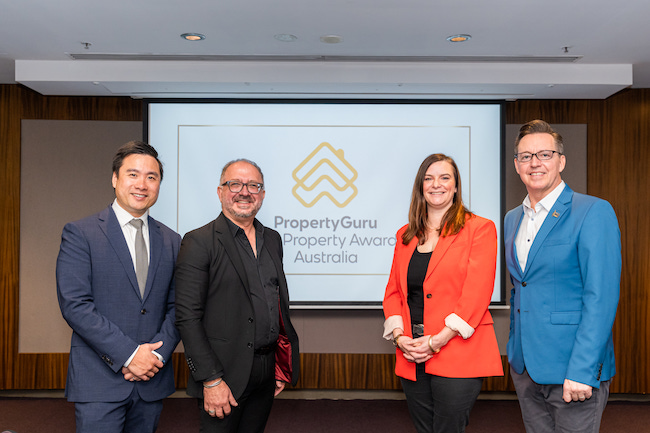 Australia's finest developers and design practices may submit their entries to the 6th PropertyGuru Asia Property Awards (Australia), which will be presented for the first time ever in Australia during a black-tie gala dinner and ceremony in Melbourne in October.
Entry submissions are accepted online until 4 August 2023 via: asiapropertyawards.com
The launch of the Awards in Australia comes as residential real estate in the country strengthens its reputation as a long-term, stable-growth asset class for end use and investment. Australia during the pandemic emerged as a safe haven where residential property prices have since continued to grow, according to research by Property Report by PropertyGuru, the official magazine of the Awards. This has emboldened Asian buyers to look for second homes in the popular international education destination following eased border restrictions.
Jules Kay, general manager of PropertyGuru Asia Property Awards and Events, said: "The Awards in Australia have grown to be much more comprehensive in the post-pandemic era, expanding to cover more states and a wider range of developers. This reflects the needs of an increasingly diverse pool of domestic and international property seekers, including upgraders, seniors, international students and foreign investors. This year, we plan to celebrate the diversity and success of the Australian market in new, even more exciting ways."
Lui Violanti, chairperson of the PropertyGuru Asia Property Awards (Australia) and regional manager for Western Australia at Inhabit Group, said: "With great excitement and pride, we open the 2023 edition of the Awards in Australia to worthy entries from all over the country. We challenge Australia's finest developers and design practices to showcase their latest and greatest achievements to the rest of Asia Pacific as property seekers across the region eagerly search once more for the country's best homes, aged-care environments, student accommodations, commercial spaces, mixed-use sites, and investment assets. The sixth edition of the Awards in Australia are truly something to look forward to this year."
In a milestone occasion, the PropertyGuru Asia Property Awards (Australia) will be celebrated for the first time within the country at the Grand Hyatt Melbourne ballroom on Friday, 13 October.
Key dates for the 2023 edition:
4 August 2023 – Entries Close
28 August – 15 September 2023 – Site Inspections
19 September 2023 – Final Judging
13 October 2023 – Gala Dinner and Awards Ceremony in Melbourne, Australia
8 December 2023 – Regional Grand Final Gala Presentation in Bangkok, Thailand
The public are also encouraged to submit their nominations before the deadline of entries on 4 August 2023 here: asiapropertyawards.com/nominations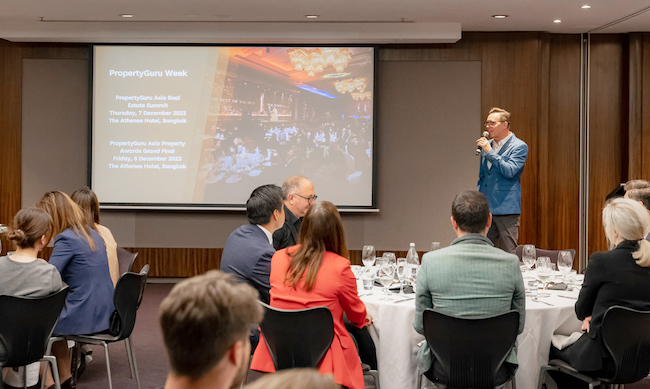 Connecting with international property seekers
Jules Kay and Lui Violanti led the 'Connect with Southeast Asia' event at Pullman Quay Grand Sydney Harbour that officially launched the 2023 edition of PropertyGuru Asia Property Awards (Australia).
Sally Picot, group general manager of sales at Scape Australia, winner of the Best Student Accommodation Development award at the 5th PropertyGuru Asia Property Awards (Australia) 2022, attended the launch in Sydney. Also in attendance was Josh Chye, partner and head of tax at HLB Mann Judd, representing HLB, the official supervisor of the Awards.
HLB, the global network of independent advisory and accounting firms, is responsible for upholding the fairness, credibility, and integrity of the selection process. As the official supervisor of the Awards, HLB makes full use of a professionally run, fully transparent judging system.
The selection process, which includes rigorous site inspections and deliberations, involves an independent panel of judges. Led by Lui Violanti, the judging panel is composed of experts in a wide array of fields from architecture and design to real estate consultancy.
Top award recipients from Australia will be eligible to compete with their peers across the Asia-Pacific region at the 18th PropertyGuru Asia Property Awards Grand Final 2023 on 8 December in Bangkok, Thailand. Last year, Spacious Group won the Best Boutique Developer (Asia) title at the 17th PropertyGuru Asia Property Awards Grand Final. Paradiso Place by SPG Land clinched both the Best Smart Building Development (Asia) and Best Integrated Work From Home Development (Asia) awards while Zero Gipps by Dare Property Group and The Archwood Residences by Mayrin Group won the Best Eco Friendly Commercial Development (Asia) and Best Housing/Landed Architectural Design (Asia) awards, respectively.
Established in 2005, the PropertyGuru Asia Property Awards continue to reward high-calibre work within the industry, encompassing property development, construction, architecture, interior design, and sustainable building practices. The series initially covered Southeast Asia and has expanded over the years to include the region's dynamic property markets, including Australia, China, Greater Niseko in Japan, and India.
Organised by PropertyGuru Group (NYSE: PGRU), Southeast Asia's leading property technology company, the 6th PropertyGuru Asia Property Awards (Australia) are supported by official magazine Property Report by PropertyGuru; official publicity partner Good Talent Media; media partners Australian Property Journal, The Property Tribune, and Your Investment Property Magazine; and official supervisor HLB.
For more information, email awards@propertyguru.com or visit the official website: AsiaPropertyAwards.com.
ABOUT PROPERTYGURU ASIA PROPERTY AWARDS

PropertyGuru's Asia Property Awards, established in 2005, are the region's most exclusive and prestigious real estate awards programme. The Asia Property Awards are recognised as the ultimate hallmark of excellence in the Asian property sector. Boasting an independent panel of industry experts and trusted supervisors, the Awards have an unparalleled reputation for being credible, ethical, fair and transparent.
In 2023, the Awards series is open to more than a dozen key property markets around the region. The exciting gala events welcome senior industry leaders and top media, as well as reach property agents and consumers via live streaming. Recognising excellence within each Asian market with a variety of categories, including green and sustainable development, each local awards programme will culminate in the PropertyGuru Asia Property Awards Grand Final, which takes place after the PropertyGuru Asia Real Estate Summit during 'PropertyGuru Week' in December 2023.
For more information, please visit AsiaPropertyAwards.com
PROPERTYGURU CONTACTS:
General Enquiries:
Richard Allan Aquino, Head of Brand & Marketing Services
M: +66 92 954 4154
E: allan@propertyguru.com
Media & Partnerships:
Nate Dacua, Media Relations & Marketing Services Manager
M: +66 92 701 2510
E: nate@propertyguru.com
Sponsorships:
Kanittha Srithongsuk, Regional Manager, Awards Sponsorship
M: +66 93 293 9794
E: kanittha@propertyguru.com
Sales & Nominations:
Watcharaphon Chaisuk (Jeff), Solutions Manager
M: +66 95 797 0595
E: jeff@propertyguru.com



NOTE: Use of the PropertyGuru Asia Property Awards logo is limited to the publication of this article only.


Copyright 2023 ACN Newswire. All rights reserved. www.acnnewswire.com