New Delhi, India, Apr 26, 2023 - (ACN Newswire) - The 10th Global Edition of the World CX Summit, organized by Trescon, is set to take place on 27 April 2023 at The Westin Gurgaon, New Delhi – NCR. The summit will highlight the outstanding accomplishments of India's foremost CX leaders and innovators, Heads of CX, and Chief Digital Officers by providing a forum to share their engaging experiences and valuable insights. The CX leaders will unveil the latest developments in the customer journey experience and reveal the key factors behind their success, paving the way for new opportunities in the future.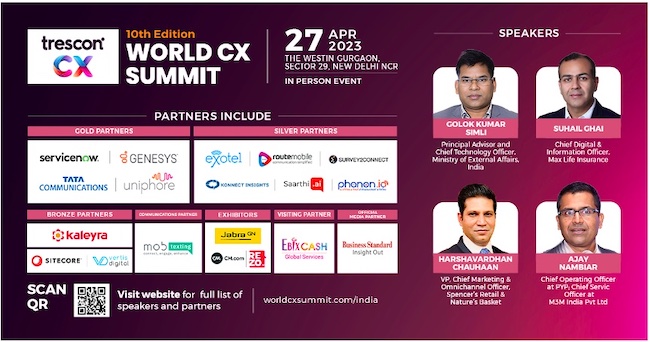 The World CX Summit – India will serve as an exclusive opportunity to connect with the most distinguished CX executives in the country and share inspiring use-cases of success and creativity.
This event will enable CX specialists from different industries in India to collaborate with esteemed technology visionaries, specialists, and pioneers to address issues related to their professional and personal development. The leading customer experience executives in the country will convene to explore the latest digital innovation trends, evaluate the market's condition, and tackle vital business-centric challenges.
Nikhil Asopa, Head of Customer Service, Tata Neu stated, "Technology has revolutionized the way we deliver customer service, providing faster and more personalized experiences. By leveraging cutting-edge tools and platforms, our team has been able to address customer inquiries with greater efficiency and accuracy, resulting in higher satisfaction rates and stronger relationships with our valued clients."
The event will be a unique opportunity to witness the most awaited revelation of the World CX Award recipients, a special segment that acknowledges and commends the revolutionary ingenuity of the top CX experts across the nation. The World CX Awards will honor exceptional leadership and noteworthy accomplishments that leaders have made in their specific domains. This awards ceremony is expected to be a significant celebration of the country's most exceptional CX luminaries.
Other key topics that will be discussed at the World CX Summit include the Future of CX, Digital Transformation, Cybersecurity, CX Transformation, and Conversational CX, among other hot topics.
"CXOs need to align themselves to Data Democratization for leveraging the true potential of data and datafication in enhancing customer experience, product development acumen, operations, innovations, prediction of new opportunities and connecting to the masses at a population scale with ease and affordable cost," stated Golok Kumar Simli, Principal Advisor and Chief Technology Officer, Ministry of External Affairs, India.
"Our main priorities remain helping our clients exchange knowledge, develop new tools to improve CX & bring positive changes in the community where we live and work." Stated Dr. Chumki Neogi, COO at EbixCash Global Services.
Manish Gupta, Co-founder and CEO, Rezo.ai stated that "As an entrepreneur in the technology sector, I've seen firsthand the transformative power of data and AI in shaping the customer experience. We believe that by putting the customer first, we can create long-lasting relationships that drive success and growth for both our clients and our business. We're excited to be part of the upcoming World CX Summit, where we'll be discussing the latest trends and best practices in CX and sharing our own experiences and insights."
World CX Summit has an impressive lineup of speakers who will be sharing their knowledge and expertise with attendees. Some of the top speakers include:
Golok Kumar Simli - Principal Advisor and Chief Technology Officer, Ministry of External Affairs, India
Suhail Ghai - Chief Digital & Information Officer, Max Life Insurance
Harshavardhan Chauhaan - VP, Chief Marketing & Omnichannel Officer, Spencer's Retail & Nature's Basket
Brian Bischoff - General Manager and SVP, Genesys Cloud CX
Sameer Narkar - Founder and CEO, Konnect Insights
Joe Emmanuel - VP – Products, Global Business Development and Presales, Route Mobile Limited
Shyam Krishnan - VP - Customer Experience, Exotel
Ajay Nambiar - Chief Operating Officer at PYP; Chief Service Officer at M3M India Pvt Ltd
Akash Jaggi - Global Director – Customer Delivery Experience & Digital Transformation, Schneider Electric
Rahul Tandon - Chief Customer Service Officer, Ecom Express Limited
Ankit Goenka - Head of Customer Experience, Bajaj Allianz General Insurance Co. Ltd.
"Meeting the diverse requirements and expectations of customers presents exceptional challenges for CX leaders in India. The World CX Summit – India is not just a platform to discuss these challenges, but a congregation of experts where everyone can collaborate and find innovative solutions together," stated Naveen Bharadwaj, Group CEO, Trescon. He further added, "The World CX Summit is your opportunity to learn from each other, to explore new ideas and technologies, and to push the boundaries of what's possible in customer experience. Together, you can create a future where CX is not just a strategy, but a way of life."
World CX Summit – India is partnered by:

Gold Partners: Tata Communications Limited; Genesys; ServiceNow and Uniphore
Silver Partners: Exotel; Route Mobile; Konnect Insights; Phonon Communications; Saarthi.ai; Survey2Connect; Rezo.ai;
Bronze Partners: Kaleyra; Sitecore | Vertis Digital
Communications Partner: MOBtexting
Visiting Partner: EbixCash Global Services
Official Media Partner: Business Standard
About Trescon:
Trescon is a global business events and consulting firm that provides a wide range of business services to a diversified client base. Trescon is founded and managed by a group of specialists with more than 10 decades of combined expertise in successfully developing business events, training, and consulting for corporates, governments, associations, and high-net-worth individuals across the world. With a deep understanding of the realities and requirements of the growth markets we operate in – we strive to deliver innovative and high-quality business platforms for our clients.
For further details about the announcement, please contact:
Nupur Aswani
Head – Media, PR and Corporate Communications,
Trescon
+91 95559 15156 | media@tresconglobal.com


Copyright 2023 ACN Newswire. All rights reserved. www.acnnewswire.com