HONG KONG, May 17, 2023 - (ACN Newswire) -  The second International Healthcare Week (IHW), organised by the Hong Kong Trade Development Council (HKTDC), kicked off yesterday, highlighting Hong Kong's strategic role as an innovation and investment hub for the healthcare industry in Asia and its position as a research and business platform for global healthcare development. A flagship event of IHW, the third Asia Summit on Global Health (ASGH) opened today (17 May), while another highlighted event, the 14th edition of the HKTDC Hong Kong International Medical and Healthcare Fair, began yesterday.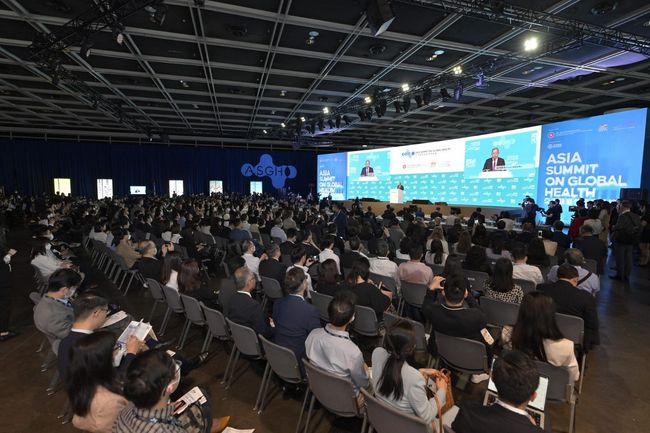 The third Asia Summit on Global Health, co-organised by the HKSAR Government and the HKTDC,
began today under the theme "Reimagining the Future of Healthcare"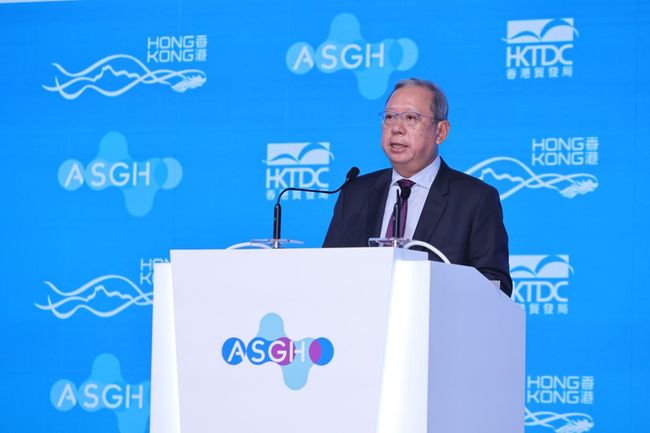 Dr Peter K N Lam, HKTDC Chairman, gives his welcome remarks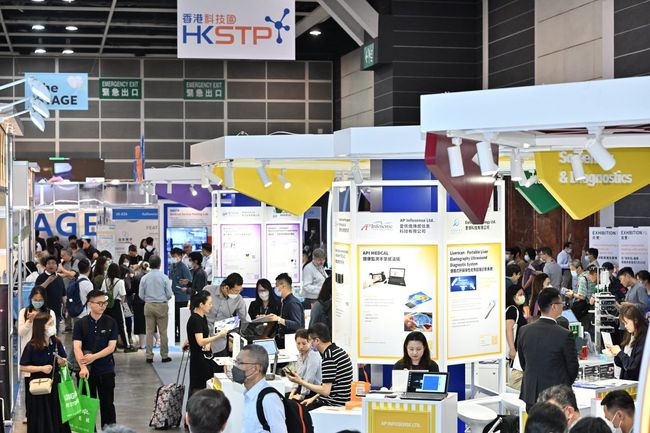 The Hong Kong International Medical and Healthcare Fair features several exhibition zones such as
Biotechnology, Hospital Equipment, Rehabilitation and Elderly Care Products, Health and Personal Care,
and Medical and Healthcare Supplies.
The two-day ASGH, co-organised by the Government of the Hong Kong Special Administrative Region (HKSAR) and the HKTDC, takes place in person at the Hong Kong Convention and Exhibition Centre (HKCEC) today, with tomorrow's second day being entirely virtual. This year's summit runs under the theme "Reimagining the Future of Healthcare" and features more than 90 speakers from 20 countries and regions, including healthcare officials and organisations, international science and medical experts, university academics and researchers, investors, business leaders and financial specialists. They are discussing the latest developments in public health, medical technology and healthcare investment to comprehensively explore the future of the healthcare ecosystem and the opportunities it presents.

Mr John Lee, Chief Executive of the HKSAR, delivered the ASGH's opening remarks this morning, with Dr Peter K N Lam, HKTDC Chairman, giving the welcome address. Ms Yu Yanhong, Member of the Leading Party Members' Group of the National Health Commission of the People's Republic of China and Secretary of the Leading Party Members' Group of the National Administration of Traditional Chinese Medicine, delivered special remarks. Dr Peter K N Lam said: "As we find ourselves on the road to recovery, it is an opportune time to look back at the last few years and outline our vision for the global healthcare industry in the years ahead. I am sure we can all agree that we must make the industry more resilient and sustainable for future generations to withstand any health crises. And Hong Kong is the ideal location for the healthcare community to reimagine a bright future for the industry."

In his opening remarks, Mr John Lee said: "Less than two weeks ago, the World Health Organization declared an end to the classification of COVID-19 as a 'public health emergency of international concern'. Here in Hong Kong, and throughout the world, life, and business, is returning to normal. The Hong Kong SAR Government, working together with our R&D and I&T institutions, businesses and professionals, is committed to building a more resilient and sustainable global health system. This Summit, I'm confident, will move us all along in the right direction, a shared determination to build the highest, most inclusive, standard of health and prosperity we can offer our economies, our societies and our communities."

In her special remarks to the audience, Ms Yu Yanhong said: "The 20th National Party Congress emphasised the importance of fostering a 'Healthy China' and giving strategic priority to the protection of the population's health. We hope to promote mutual development by collaborating with Asia's medical and health professionals. This includes enhancing collaboration in medical technology innovation and clinical applications, combining the strengths of biomedical research and industry, complementing each other's resources for mutual benefit, and focusing on global, open development to create a global community of health for all."

Also addressing the summit this morning was Dr Tedros Adhanom Ghebreyesus, Director-General of the World Health Organization (WHO), who said: "While COVID-19 may no longer be a global health emergency, the threat of another more disruptive pathogen remains. To keep the world safer against emergencies of all kinds, the WHO has proposed a framework for stronger governance, financing, systems and tools, and is supporting the international pandemic accord now being negotiated by countries. It is time to end the cycle of panic and neglect in health, and work together to build a new future that's equitable, inclusive and coherent."

Charting healthcare progress in the post-pandemic era to explore opportunities

In the post-pandemic world, the top priority is to reimagine the future of healthcare, with key business leaders, pharmaceutical giants, investors and global health pioneers all needing to contribute to improvements in patient care. This morning's "Plenary Session: Reimagining the Future of Healthcare", moderated by Mr Victor Chu, Chairman & CEO of First Eastern Investment Group, invited Sir Douglas Flint, Chairman of abrdn plc and Chairman of the IP Group, as guest speaker for the first part of the session, the Fireside Chat. Sir Douglas said: "The pandemic has demonstrated the importance of multidisciplinary, multi-country collaboration in addressing global health challenges. With its young population, rising research and development and exceptional scientific talent pool, Asia will play a leading role in global healthcare development going forward. Hong Kong's efforts to attract talent and investment to the region and to build regulatory frameworks that bridge Asian and Western scientific research and development are also vital."

This was followed by "Plenary Talk: The Future of Healthcare as Enabled by Technology and AI", with Dr Gerald L Chan, co-founder of the Morningside Group, invited to explain how AI can help facilitate future developments in the healthcare industry. Dr Chan said: "The explosive rise in the demand for healthcare as well as healthcare costs, combined with an increase in life expectancy, is putting a strain on global healthcare systems. In the face of this demand-supply imbalance, the only way to bridge the gap is to use scalable technology, such as data and artificial intelligence. This will allow us to augment the system so that, despite limited resources, we can care for more patients and meet the seemingly insatiable demand for healthcare."

Tomorrow (18 May) will see a diverse array of online sessions covering topics such as AI, biotechnology, the new focus on Asian healthcare, climate change and health, the future direction of healthcare services, women innovators and investors in healthcare, breakthroughs and the investment landscape in longevity, opportunities in integrative Chinese-Western medicine, and mental health and holistic wellness. Sharing their insights will be scholars, medical specialists, research and innovation leaders, and financial elites from Asia and around the world.

Holistic platform to connect investment projects and boost collaboration

This year's summit features ASGH Deal-Making from 17 to 23 May, connecting project owners with potential investors and business partners worldwide and covering projects such as pharmaceuticals, medical devices and diagnostics, AI and digital health, community health and wellness. The InnoHealth Showcase and exhibition area, running both online and offline, features projects and services from more than 140 innovative technology companies related to the healthcare industry, allowing them to connect with investors from around the world. Among them, 50 innovative start-ups and projects are led by five local universities, including the University of Hong Kong, the Chinese University of Hong Kong, the Hong Kong University of Science and Technology, Hong Kong Baptist University and the Hong Kong Polytechnic University, many of which won multiple awards at this year's Geneva International Exhibition of Inventions. The Innovation and Technology Commission (ITC) and Cyberport continue to be Health Innovation Partners of the summit and are showcasing their solutions at the event. ITC has gathered 16 research centres under the InnoHK initiative to demonstrate Hong Kong's strength as a global research hub. And today's Business of Healthcare Advisory Zone targets biotechnology and healthcare start-ups with a range of consulting services offered by investors and industry experts.

Cutting-edge medical devices and technological solutions at Medical Fair

The Hong Kong International Medical and Healthcare Fair, organised by the HKTDC and co-organised by the Hong Kong Medical and Healthcare Device Industries Association (HKMHDIA), showcases cutting-edge medical devices and technological solutions under the theme "Unleash the Power of Smart Health". The fair has attracted more than 300 exhibitors from local and international markets, including Canada, Mainland China, Japan, Taiwan and the United States. This year's fair is the biggest in the event's history, with many exhibitors investing more resources than before the pandemic.

This year's themed zones at the fair include Biotechnology, Hospital Equipment, Rehabilitation and Elderly Care, World of Health and Wellness, and Medical Supplies and Disposables. There are also exclusive exhibition areas for the HKMHDIA, Hong Kong China Federation of Bodybuilding & Fitness, and Hong Kong Science and Technology Parks (HKSTP). The zones showcase a range of cutting-edge medical technologies and instruments, healthcare products and related services.

Among the exhibitors, one company is showcasing a "telehealth management platform" that enables medical staff to monitor patients' blood pressure, blood oxygen saturation and body temperature in real-time using Bluetooth medical devices (Booth: 3E-E27). Another exhibitor is introducing an "electronic stethoscope" that allows healthcare professionals to conduct remote auscultation (Booth: 3D-E01).

The Medical Fair has invited six local universities, including the University of Hong Kong, the Chinese University of Hong Kong, the Hong Kong University of Science and Technology, City University of Hong Kong, Hong Kong Baptist University and Lingnan University, to showcase their R&D achievements in the medical and healthcare field, while the exhibition area set up by the HKSTP allows 30 companies, including start-ups they have incubated, to showcase their innovative achievements. Among them, a company is demonstrating a nucleic acid drug delivery system using "electroporation" which utilises brief electric pulses to enhance drug penetration across the cell membrane and help induce a more potent immune response (Booth: 3E-E28).

Held yesterday, the HKMHDIA Medical Fair Forum 2023 was a major highlight of this year's fair. Organised by the HKMHDIA with the HKTDC as a strategic partner, the event featured industry experts who discussed the opportunities and prerequisites for establishing medical technology companies in Hong Kong and mainland cities in the Guangdong-Hong Kong-Macao Greater Bay Area. Today, "The Rise of Innovative MedTech in Hong Kong" forum, organised by HKSTP, introduced new solutions from medical technology companies including a next-generation bone density testing system and an ultrasound system for monitoring liver disease.

This year's Medical Fair continues to use the "EXHIBITION+" model, with the physical exhibition taking place at the Hong Kong Convention and Exhibition Centre from 16 to 18 May. Global exhibitors, industry professionals and buyers can also conduct business negotiations through the "Click2Match" online smart business matching platform until 25 May.

Websites
- International Healthcare Week: https://internationalhealthcareweek.hktdc.com/en
- Asia Summit On Global Health: https://www.asiasummitglobalhealth.com/conference/asgh/en
- Programme: https://www.asiasummitglobalhealth.com/conference/asgh/en/programme
- Speakers: https://www.asiasummitglobalhealth.com/conference/asgh/en/speaker
- Hong Kong International Medical and Healthcare Fair: https://www.hktdc.com/event/hkmedicalfair/en
- Interesting product list and activity schedule: https://bit.ly/3V9mv6S
- Media Room: http://mediaroom.hktdc.com
- Photo download: https://bit.ly/3OziSpJ

About HKTDC

The Hong Kong Trade Development Council (HKTDC) is a statutory body established in 1966 to promote, assist and develop Hong Kong's trade. With 50 offices globally, including 13 in Mainland China, the HKTDC promotes Hong Kong as a two-way global investment and business hub. The HKTDC organises international exhibitions, conferences and business missions to create business opportunities for companies, particularly small and medium-sized enterprises (SMEs), in the mainland and international markets. The HKTDC also provides up-to-date market insights and product information via research reports and digital news channels. For more information, please visit: www.hktdc.com/aboutus. Follow us on Twitter @hktdc and LinkedIn

Media enquiries

For enquiries please contact:

Asia Summit on Global Health
Yuan Tung Financial Relations:
Anson Wong, Tel: +852 3428 3413, Email: awong@yuantung.com.hk
Agnes Yiu, Tel: +852 3428 5690, Email: ayiu@yuantung.com.hk
Hing-Fung Wong, Tel: +852 3428 3122, Email: hfwong@yuantung.com.hk

HKTDC's Communications & Public Affairs Department:
Janet Chan, Tel: +852 2584 4369, Email: janet.ch.chan@hktdc.org
Agnes Wat, Tel: +852 2584 4554, Email: agnes.ky.wat@hktdc.org

Hong Kong International Medical and Healthcare Fair
HKTDC's Communications & Public Affairs Department:
Frankie Leung, Tel: +852 2584 4298, Email: frankie.cy.leung@hktdc.org

Copyright 2023 ACN Newswire. All rights reserved. www.acnnewswire.com