BANGKOK, Oct 16, 2023 - (ACN Newswire) - BayWa r.e. Solar Trade, the solar trading arm of the global renewable energy developer, service provider and solar distributor, launched the sale of Electric Vehicle (EV) chargers in partnership with Huawei in Thailand at the ASEAN Sustainable Energy Week 2023.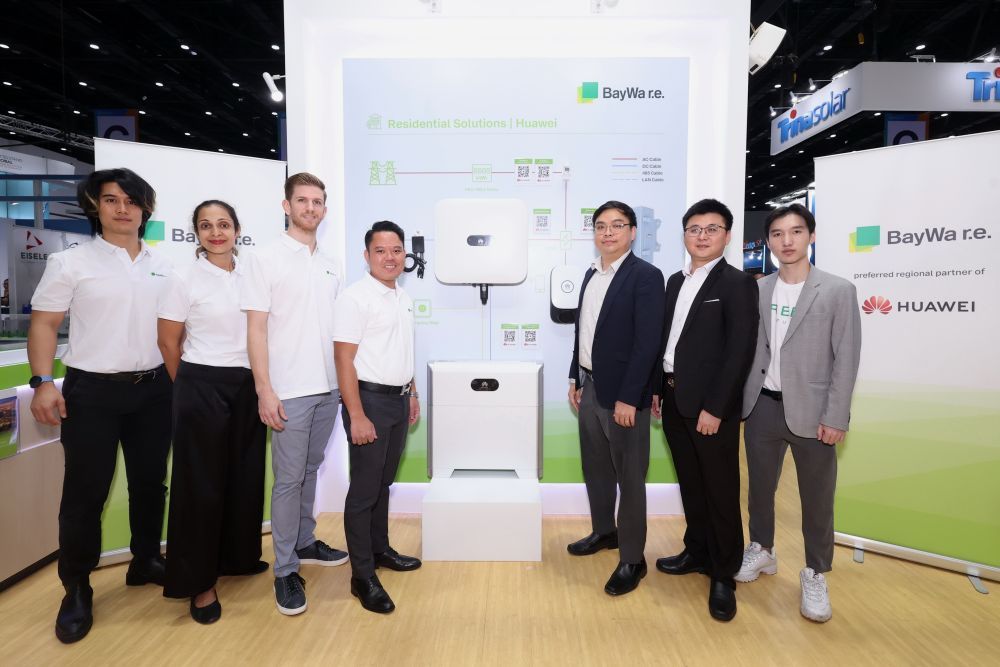 BayWa r.e. and Huawei unveiled the EV Chargers at the Queen Sirikit National Convention Center (QSNCC) in Bangkok, officiated by Junrhey Castro, Managing Director of Solar Trade in Southeast Asia, and Nitinan Pooltananan, Business Development Manager at Huawei Digital Power Thailand.
Junrhey Castro, Director of Solar Trade in SEA, shared his perspective on the collaboration, stating, "As a recognised leading Solar Trade Business, we are thrilled to be working together with Huawei in promoting EV charger technology in Thailand. We are committed to helping the country in setting up charging stations nationwide through our partners and customers. We hope to make EV chargers readily accessible and empower individuals and businesses to actively participate in the transition to clean transportation solutions."
Thailand's commitment to carbon neutrality and net-zero greenhouse gas emissions at COP26, combined with the unexpected uncertainty in oil and gas prices, has accelerated Thailand's EV market to a new peak. At the beginning of 2022, Thailand rolled out several tax-related measures to boost domestic EV demand, including exemption or reduction of import duty and excise tax and conditional subsidies for imported EVs.
Thailand, as a regional auto manufacturing hub, is the key force in driving the region towards the EV car transition, with the country accounting for almost 79% of all EVs sold in Southeast Asia in the first quarter of 2023. By 2023, Thailand aims to have EVs account for 30% of its annual car production of 2.5 million vehicles. To support this goal, infrastructures integrated with smart supply-demand management should be in place to enable the transition towards decarbonizing the transport industry.
BayWa r.e. Solar Trade has been promoting sustainability through its best-in-class products and services with logistics, warehousing and technical capabilities, and consulting for its growing regional customer base. By having EV chargers as part of the distribution portfolio, alongside other solar products such as solar inverters, solar-charged batteries, solar modules and other solar solutions, Solar Trade aims to encourage the faster adoption of electric vehicles. The addition to the portfolio attempts to decrease the reliance on conventional energy sources and grid power, thereby ensuring a greener and more sustainable future for generations to come.
Expressing their enthusiasm for the collaboration, Logan Yu, President of Huawei Digital Power Thailand, commented, "BayWa r.e., with its global footprint, has been successful in delivering Huawei technological advancements in the market. By adding our cutting-edge EV charging solutions to their product offering in Thailand, customers will now have even more access to this technology, driving a positive change in Thailand's energy landscape and contributing to Thailand's broader mission of achieving a carbon-neutral future."
BayWa r.e. Solar Trade established its Southeast Asia presence in Thailand in 2017 and expanded to the Philippines in 2019 before further forays into Vietnam and Malaysia in the following years. They recently celebrated cumulative sales of 1 Gigawatt in Thailand for 2023.
BayWa r.e. AG (BayWa r.e.):
At BayWa r.e. we r.e.think energy - how it is produced, stored and can be best used to enable the global renewable energy transition that is essential to the future of our planet.
We are a leading global developer, service supplier, distributor and solutions provider and have brought over 5.5 GW of energy online and manage over 10 GW of assets. We are also an Independent Power Producer with an expanding energy trading business.
BayWa r.e. works with businesses worldwide to provide tailored renewable solutions. Operating 100% carbon compensated, we are also committed to our own sustainability journey.
Every day, we are working hard to actively shape the future of energy in a diverse, equitable and inclusive workplace.
Our shareholders are BayWa AG, a €27.1 billion global business, and Energy Infrastructure Partners, a leader in energy infrastructure investment.
Contact information:
PRecious Communications for BayWa r.e. AG
Li Wen Tan
Tel: +65 6303 0567
Email: baywa-re@preciouscomms.com
BayWa r.e. AG
Salim Pathan
Marketing Manager, APAC
Tel: +66 62 698 7162
Email: salim.pathan@baywa-re.com
Mark Cooper
Corporate Communications
Tel: +49 89 383932 3611
E-mail: mark.cooper@baywa-re.com


Copyright 2023 ACN Newswire. All rights reserved. www.acnnewswire.com