BEIJING, Oct 7, 2023 - (ACN Newswire) - China Communications Construction Company Limited(CCCC), has benefited people all over the world with transportation infrastructure projects oriented to sustainable development, CCCC officials said at a recent forum.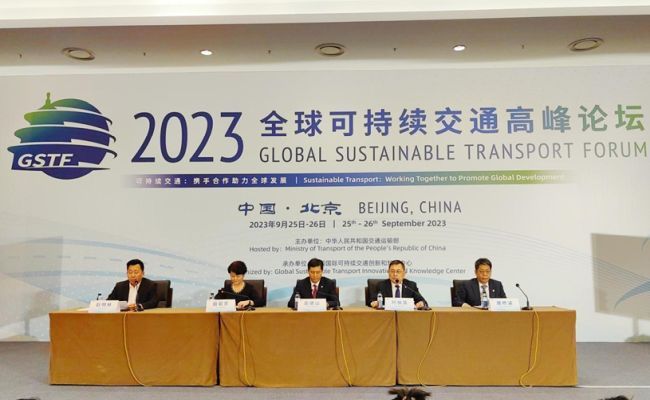 The forum, namely 2023 Global Sustainable Transport Forum, was held from Sept. 25 to 26 in Beijing. CCCC was deeply involved in the forum, and organized two side events of the forum.
Many senior executives of CCCC attended the forum and side events, and shared information about the group's achievements in pursuing sustainable transportation at a press conference held by CCCC on Sept. 26.
CCCC has expanded its business into five continents and undertaken major projects in 157 countries and regions, including the Mombasa - Nairobi Standard Gauge Railway in Kenya, Hong Kong–Zhuhai–Macao Bridge in south China, and Sri Lanka's Colombo Port City, strongly boosting economic growth and social prosperity, Wang Tongzhou, Chairman of CCCC, said in his keynote speech delivered at the forum.
Committed to "making the world more smooth, making the city more livable, making the life more colorful" CCCC focuses efforts on infrastructure connectivity, common development, innovation-driven development, and eco-friendly construction, and looks forward to enhancing cooperation for shared benefits with all parties, Wang noted.
CCCC has actively adapted to the trend toward green economy for years, according to Pei Minshan, Vice General Manager of CCCC. Attaching great importance to China's carbon peak and neutrality goals, CCCC has accelerated the building of a clean and low-carbon infrastructure system, and pursued energy conservation, pollution control, consumption reduction, and carbon reduction throughout production, operation and management, striving to lay a solid foundation for sustainable transportation, Pei said at the press conference.
Innovation is a crucial driving force for the sustainable development of the transportation sector, pointed out Liu Boying, Deputy Chief Engineer of CCCC, at the press conference. CCCC has unswervingly marched along the path of high-quality development driven by innovation, and steadily enhanced independent innovation capacity, Liu said.
Tang Qiaoliang, General Manager of CCCC's Overseas Business Department, shared at the press conference that CCCC has invested in and built over 3,000 high-standard infrastructure projects worth over $140 billion in Belt and Road countries and regions, including over 13,000 kilometers of highways, 3,000 kilometers of railways, over 200 bridges, 150 key ports, 31 newly built or renovated airports, and over 1,000 container bridge cranes.
CCCC considers people-to-people connectivity the most profound and long-lasting mode of connectivity, said Tian Jufang, General Manager of CCCC's Corporate Culture Department. While improving infrastructure, CCCC has carried out assistance activities globally to help improve people's sense of gain and happiness worldwide, Tian added.
Media Contact
Wang Yueran, huanqiu.com
Email: wangyueran@huanqiu.com
Website: http://www.huanqiu.com
Tel: 13002252096


Copyright 2023 ACN Newswire. All rights reserved. www.acnnewswire.com