l CMS was included into the first "Sustainability Yearbook (China)" published by S&P Global.
l Nearly 1600 Chinese companies were included in the selection pool, but only 88 companies, including CMS, were finally selected!
SHENZHEN, CHINA, June 29, 2023 - (ACN Newswire) - Recently, S&P Global, the world's leading corporate sustainability assessment institution, has officially released the first "Sustainability Yearbook 2023 (China)". China Medical System Holdings Limited ("CMS" or the "Group"), standing out from many outstanding companies, was successfully included in this Yearbook. Previously, S&P Global updated CMS's Sustainability Score to 53, surpassing 92% of the global peers participating in this evaluation, and it is significantly ahead of the industry average.
S&P Global has published global versions of the "Sustainability Yearbook" for 16 consecutive years, and has received extensive attention and recognition. This year, S&P Global published the "Sustainability Yearbook (China)" for the first time, aiming to identify and recognize Chinese companies that have great sustainable development performance in different industries. Nearly 1600 Chinese companies from 60 industries were included in the selection pool of the yearbook, but only companies that scored within the top 15% of their industries and achieved a S&P Global Sustainability Score within 30% of their industry's top-performing company can be selected. 88 companies, including CMS, were finally selected into the "Sustainability Yearbook 2023(China)".
CMS adheres to the concept of sustainable development, and has always paid close attention to the global ESG management trends and outstanding ESG related practices, continued to optimize its internal management, and unceasingly promoted the deep integration of ESG concepts and its operation strategy. In 2022, CMS responded to the Sustainable Development Goals (SDGs) of United Nations, further optimizing the Group's sustainable development strategy and long-term goals to lead the healthy and sustainable development of CMS.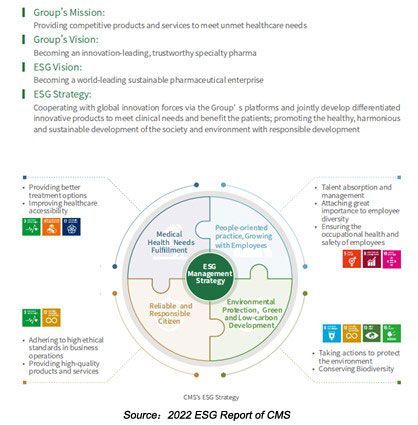 CMS has always enthusiastically participated in public welfare activities, and actively responded to social needs with practical actions. At the same time, it strives to fulfill its responsibilities and missions of being a corporate citizen in pharmaceutical industry. CMS focuses on unmet clinical needs, and continuously brings differentiated, high-quality, affordable innovative products to patients. In the first half of 2023, three innovative products of CMS were successfully approved for marketing in China, bringing benefits to patients. In the meantime, CMS continues to create a green, clean, friendly and inclusive corporate culture and operating environment through constant improvement of its internal policies, organizational structures and training systems. Looking into the future, CMS will uphold its original aspiration to promote the harmonious development of its operations, the environment and society with long-termism, and to contribute "CMS strength" to the global sustainable development.
About CMS:
CMS is a platform company linking pharmaceutical innovation and commercialization with strong product lifecycle management capability, dedicated to providing competitive products and services to meet unmet healthcare needs.
CMS focuses on developing first- or best-in-class innovative products and has made the layout of 30 differentiated pipeline products with strong market potential. CMS deeply engages in specialty therapeutic fields, and has developed proven commercialization capabilities, extensive networks and expert resources, resulting in leading academic and market positions for its major marketed products. CMS continues to strengthen the competitiveness of its cardio-cerebrovascular/gastroenterology business, and independently operated dermatology and medical aesthetic business, and ophthalmology business, whilst enhancing the scale and efficiency. CMS also entered into the Southeast Asian market to create new opportunities to further enhance the sustainable development of the Group.
Media Contact
Brand: China Medical System Holdings Ltd.
Contact: CMS Investor Relations
Email: ir@cms.net.cn
Website: https://web.cms.net.cn/en/home/
Source: China Medical System Holdings Ltd.


Copyright 2023 ACN Newswire. All rights reserved. www.acnnewswire.com