The much anticipated 9th edition of the World CX Summit draws to a close at the Marina Bay Sands Expo and Convention Centre, Singapore. Held on 2nd-3rd August, the event successfully brought together tech trendsetters, innovators, CX professionals as they discussed the trends and innovations that can transform the global CX space.
SINGAPORE, Aug 9, 2023 - (ACN Newswire) - The 9th global edition of the World CX Summit, organised by Trescon, in Singapore was a resounding success. The event saw an illuminating confluence of leading tech titans, CX business experts, and innovators exploring the new-age tech solutions that are redefining the global CX space.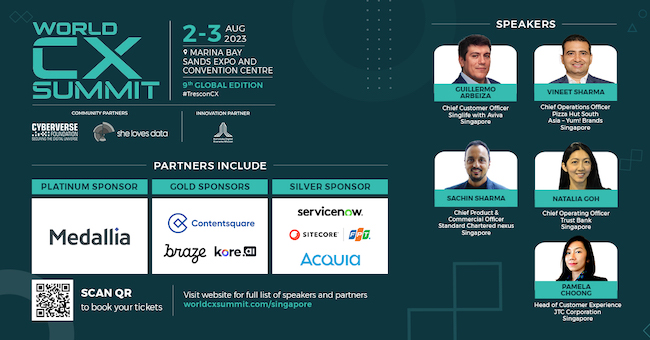 Co-located with the World AI Show and World Blockchain Summit as a part of Trescon ABC events, was held at the prestigious Marina Bay Sands Expo and Convention Centre on the 2nd-3rd August 2023. Trescon ABC events further cements Singapore's position as a global innovation hub and an early adopter of emerging tech solutions.
The event exceeded expectations with an exceptional turnout and received praise from attendees. The World CX Summit played a pivotal role in shaping the future of the CX space, featuring a successful showcase of cutting-edge solutions, insightful panel discussions, successful use-cases and valuable knowledge exchange the summit facilitated networking, collaboration and partnership opportunities.
The two-day event explored a wide array of topics ranging from the future of CX, transforming CX in the digital era, data-driven creativity, redefining CX for taxpayers and more.
Top industry leaders explored the innovative strategies, trending technologies and best practices to enhance customer experience to further drive customer loyalty and customer experience.
One such session was the tech talk on 'The Art of Selecting the Right CX Automation Solution' by Vishal Agarwal, Co-founder and CEO, Locobuzz. The talk drove the focus on how businesses can find the perfect balance between functionality and usability.
Another notable session was the panel discussion on 'CX Innovation through Martech: Developing A Customer-Centric Ecosystem'. The panel moderated by, Jana Marle-Zizkova Co-founder and CEO, She Loves Data, delved into how businesses can improve customer involvement, brand devotion, and retention by embracing the latest digital advancements. The panelists, Agnisha Ghosh, Regional Director, Digital Media & Advertising Strategy, MetLife; Jeffrey Lin, Director, Solutions Engineering, APJ, Acquia; Jay Bose, Group Head of Martech, AIA Group; Jaspreet Kaur Head of Marketing & Strategic Planning, Sodexo, provided key insights on employing AI/ML for predicting behaviors and extracting data can make marketing more autonomous.
Speaking about his experience at the World CX Summit, Vineet Sharma, Chief Operations Officer, Pizza Hut South Asia – Yum! Brands, said," An impressive line-up of industry leading solutions and subject matter experts on delivering a seamless CX."
Raymond Ran, Assistant Commissioner, Taxpayer eXperience Division, Quality Service Manager, Inland Revenue Authority of Singapore (IRAS), said," Never underestimate an event that brings together like-minded and energy-charged professionals. It is fulfilling to be here and a great experience to be invited to share about IRAS' service mantra and experience with a group of lively audience."
The praise for the World CX Summit didn't just end here, Pamela Choong, Head of Customer Experience, JTC Corporation said, "I am truly honored to be part of this event. Delighted that we could connect with the audience and received an abundance of thought-provoking questions".
"The 9th global edition of the World CX Summit underscores the unwavering commitment Singapore shares in igniting the spirit of innovation and fostering progress in Asia's technological landscape." said Shrikanth Prabhu, BU Director, Trescon.
As the curtain draws on this edition, plans are underway for an even more exceptional edition. Sharing the unyielding commitment to foster innovation and drive global emerging tech adoption, Trescon is delighted to announce the inaugural edition of the Digital Acceleration and Transformation Expo in Delhi this November. The event aims to connect industry leaders, innovators, and stakeholders from various regions to play a central role in the global digital transformation journey. For more information on how to get involved with DATE, visit: https://datewithtech.com/
The 9th global edition of the World CX Summit is officially supported by:
Community Partners – She Loves Data, Cyberverse Foundation.
Platinum Sponsor - Medallia,
Gold Sponsors - Contentsquare, Braze, Locobuzz, Kore.ai
Silver Sponsors – Servicenow, Acquia, Sitecore | FPT, Survey2Connect
Bronze Sponsors - Zegocloud, InMoment
Executive Roundtable Sponsor – Insider
Innovation Partner – Karnataka Digital Economy Mission
About Trescon
Trescon is a pioneering force in the global business events and services sector, driving the adoption of emerging technologies while promoting sustainability and inclusive leadership.
Our summits, expos, and conferences create real economic impact by connecting and empowering the key ecosystem of government organisations, regulators, enterprises, corporates and more. With the help of our 250+ employees across offices in 6 countries, several of our clients have quadrupled their leads, shortened sales cycles by half or less, entered markets three times faster, closed deals within unimaginable timelines and grown their businesses ultimately. For more information about Trescon visit: www.tresconglobal.com.
For further details about the announcement, please contact:
Nupur Aswani
Head – Media, PR and Corporate Communications, Trescon
+91 95559 15156 | media@tresconglobal.com


Copyright 2023 ACN Newswire. All rights reserved. www.acnnewswire.com