Hong Kong, Sept 28, 2023 - (ACN Newswire) - China's largest platform-centric decision-making AI company[1] – Beijing Fourth Paradigm Technology Co., Ltd. (stock code: 6682.HK), today listed on the Main Board of The Stock Exchange of Hong Kong Limited (the "Hong Kong Stock Exchange").
Fourth Paradigm offered a total of 18,396,000 Shares in the global offering. The offer price was determined at HK$55.60 per offer share. The net proceeds from the Global Offering are estimated to be approximately HK$835.5 million.The Company intends to use the net proceeds for the following purposes: (1) Use for enhancing the Company's fundamental research, technological capabilities and solution development over the next three years. (2) Use for expanding the Company's offerings, build its brand and enter into new industry sectors over the next three years. (3) Use for pursuing strategic investment and acquisition opportunities to implement the Company's long-term growth strategy to develop its solutions and expand and penetrate the industry verticals it covers over the next three years. (4) Use for general corporate purposes.
The Fourth Paradigm's Hong Kong Offering was over-subscribed by approximately 11.4 times of the 1,839,600 shares offered. The International Offering also recorded an over-subscription, of approximately 1.57 times of the 16,556,400 shares offered.
The opening price of Fourth Paradigm today was HK$63.1, up by 13.49%, with a total market capitalisation of HK$29.3 billion accordingly.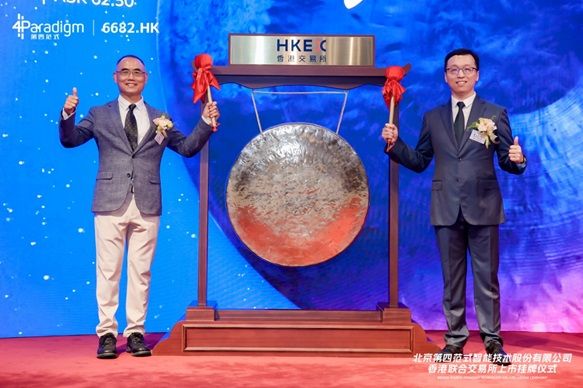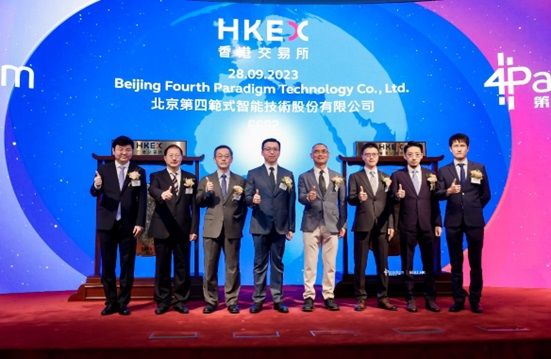 Dr. Dai Wenyuan, Chairman of the Board, Executive Director, Chief Executive Officer and General Manager of Beijing Fourth Paradigm Technology Co., Ltd. said, "Since its inception, Fourth Paradigm has been committed to empowering AI transformation and advancing AI for all businesses, and has obtained a leading position in platform-centric enterprise AI solutions and core technologies. Being listed in HKEX today is an important milestone for Fourth Paradigm. I would like to thank all our staff for their unremitting efforts as well as government leaders, investors, customers and partners for their trust. Going forward, we will further consolidate our technical barriers and enhance our commercialization capabilities, continuously driving user success."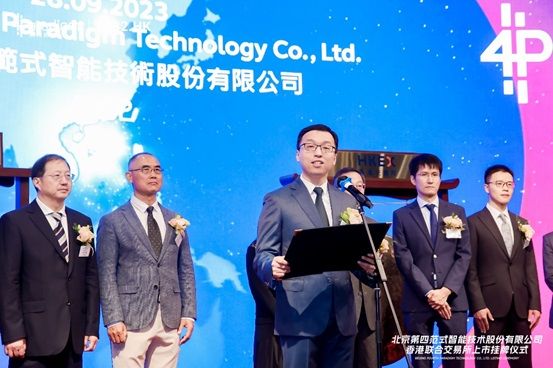 Founded in 2014, Beijing Fourth Paradigm Technology Co., Ltd. is a leader in enterprise AI. The Company offers platform-centric AI solutions that can be rapidly deployed by enterprises on a large scale to uncover hidden patterns in data and comprehensively enhance their decision-making capabilities. Fourth Paradigm was the largest player by revenue in the platform-centric decision-making AI market in China in 2022, having a market share of 22.6%, according to the CIC Report. In March 2023, in addition to decision-making AI solutions, Fourth Paradigm launched SageGPT, an enterprise-grade generative AI product specially designed for business scenarios. SageGPT features multimodal interaction and enterprise-ready AI tools.
Fourth Paradigm's focus has always been the value it creates for users and the success of users. Its end-to-end solutions directly address the challenges faced by enterprises in large-scale deployment of AI. The low- and/or no-code nature of its solutions empowers users in any industry with or without AI experience to implement its solutions easily and rapidly without involvement of AI experts, enabling enterprises to benefit from AI transformation. Fourth Paradigm's strong value proposition and efforts to enable user success are evidenced by the results it has achieved with users. Fourth Paradigm has served a large number of lighthouse users who are market leaders in the respective industries they operate, including but not limited to finance, retail, manufacturing, energy and power, telecommunications, transportation, technology, education, media and healthcare.
[1] In terms of revenue in 2022 according to China Insights Consultancy.
For further information, please contact:
Porda Havas International Finance Communications Group
Mr. Bunny Lee  +852 3150 6707  bunny.lee@h-advisors.global
MS. Ivy Lu  +86 21 3397 8878  ivy.lu@h-advisors.global
MS. May Yang  +86 21 3397 8725  may.yang@h-advisors.global


Copyright 2023 ACN Newswire. All rights reserved. www.acnnewswire.com