BANGKOK, June 15, 2023 - (ACN Newswire) - KFC Thailand loaded its buckets with three important ingredients at the "Proud To Be Pride Parade 2023": Love, Respect and Equal Opportunity. A trio of deep-fried values that've been coming in hot for KFC fans since 1952 - and this year's rainbowed streets of CentralWorld Square, were no exception.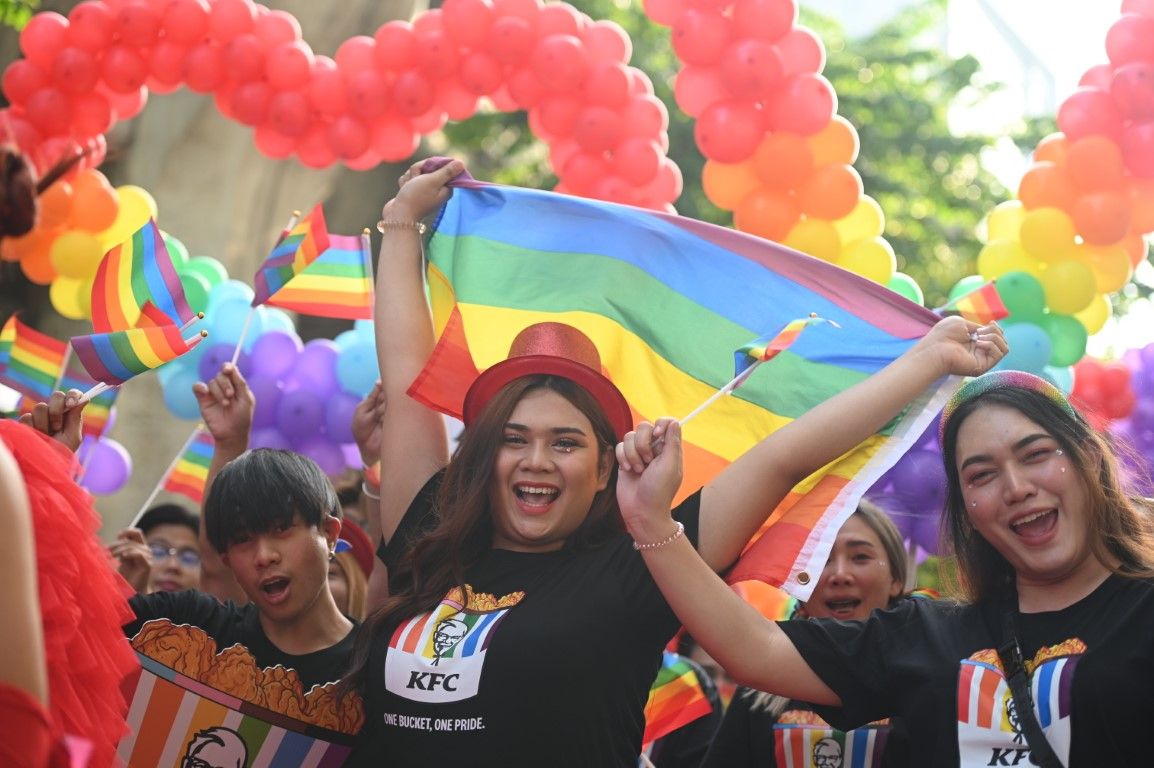 A pride parade unlike any other, "Proud To Be Pride" lit up Bangkok as a love fest spectacular on 1 June.
Presented by Muse by Metinee x CentralWorld x The United Nations Development Programme, this was one gathering of minds that certainly needed no introduction. KFC Thailand was front and centre, with its Pride placard quoting the Colonel's very first testimony from back in the day: 'Everyone gets a seat at the table.' And this year, everyone did. The Colonel's 2023 Thai team bucketed forth and joined hearts with their pledge for diversity, inclusion, and equality, specifically in the workplace. KFC took to the bright-striped avenues with life-size recruitment buckets, in support of equal opportunities for all.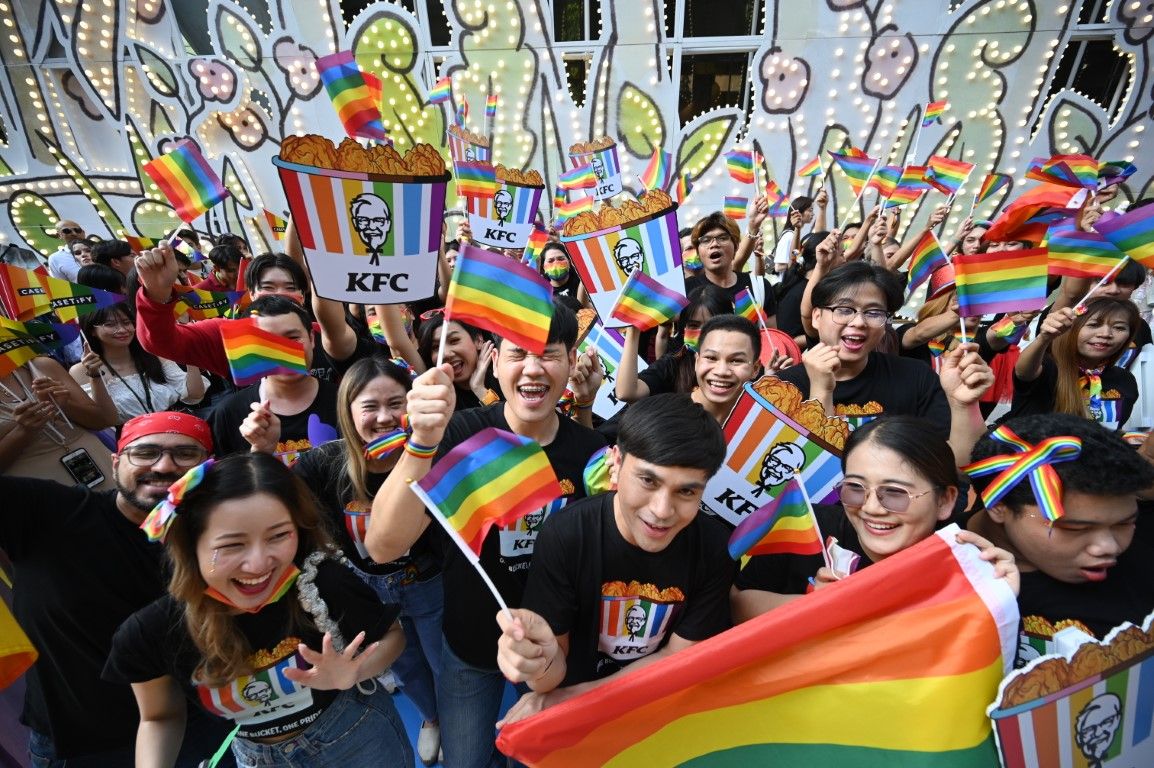 Spectators, marchers and even musicians were embraced and ushered by zealous KFC-stars to the KFC Walk-In Recruitment Buckets - where the table was duly laid with the freedom to be your best self, no matter what. Everyone was invited to step in and apply for some of the hottest KFC job vacancies this side of the menu. This was undoubtedly a proud moment for the KFC squad.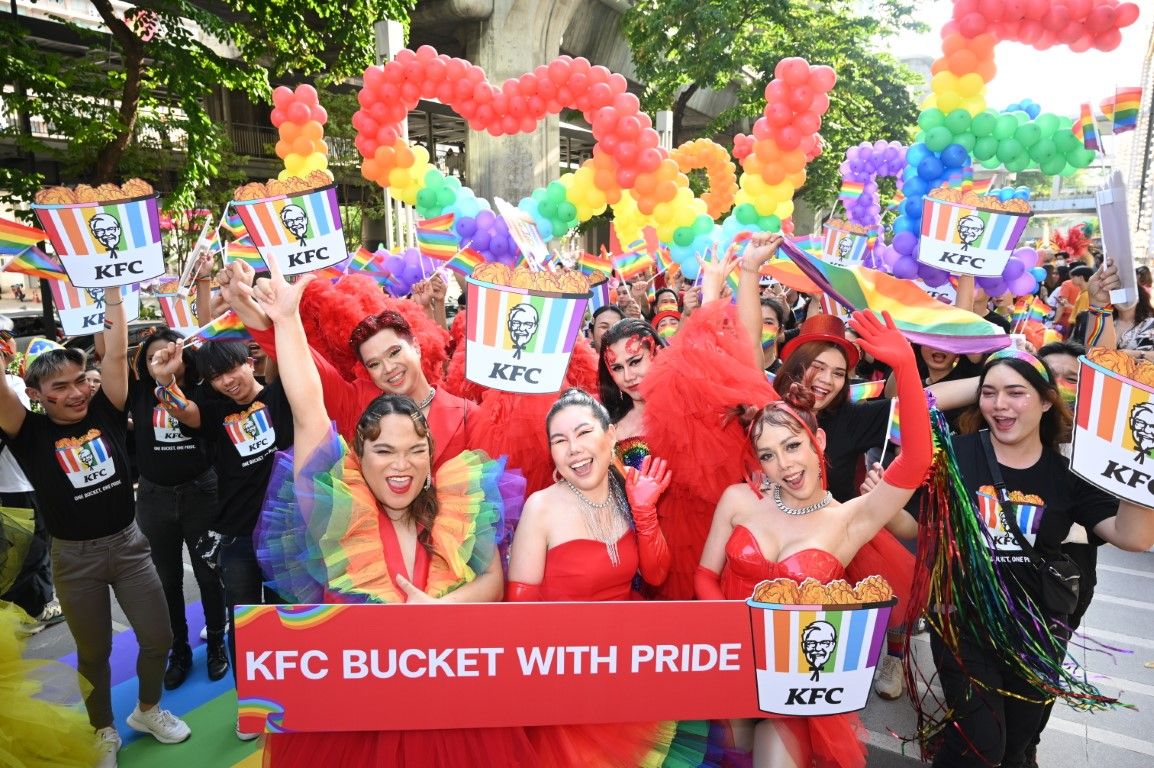 "At KFC Thailand, we're not just about chicken; we're about people - and encouraging people to bring their best selves to the party," says Sakechai Choomuenwai, General Manager of KFC Thailand. "We're an inclusive organization that goes above and beyond to cultivate a workplace where human values like Love, Respect and Pride are always dished up first."
With its zero-discrimination policy, and an all-time customer promise to serve its patrons with friendship, KFC Thailand makes no bones about its uncapped celebration of LGBTQ+ rights, applying the essence of diversity and equality to every touchpoint in and outside of its business. For KFC, Pride is not only reserved for the month of June, but rather, "Pride is a way of service and a way of life," adds Choomuenwai, "and so too is individualism. If we can continue to provide an environment where our team members feel safe and comfortable to openly express themselves, then we're doing our jobs, and we're doing them well."

By affording equal and fair career opportunities, KFC Thailand continues to stand strong against the backdrop of diversity and inclusion and holds true to its deeply-ingrained wishbone: to nourish a nation of dreamers, doers and achievers - and to do it with a whole lot of zing!

#KFCThailand #musebymetinee #UNDPthailand #centralwOrld #CTWprOudtObepride #PrideMonth2023

About KFC

KFC, one of the largest brands of quick service restaurants (QSR), is popular all over the world. Founded by Colonel Harland Sanders in 1952 with a commitment to improving and offering delicious and unique fried chicken menu of excellent quality to customers who love fried chicken. In Thailand, the first KFC store was established in 1985 at Central Ladprao Department Store. Currently, there are 978 KFC branches nationwide (as of October 2022). Brand and franchise management by YUM Restaurants International (Thailand) Co., Ltd. with KFC restaurant management by 3 franchisees: Central Restaurants Group Co., Ltd. (CRG), Restaurant Development Co., Ltd. (RD), The QSR of Asia Co., Ltd. (QSA).
Press contact:
Jiravuth Thienprapan (Jjay)
E-mail: prverve.bkk@vervethailand.com

Source: KFC Thailand


Copyright 2023 ACN Newswire. All rights reserved. www.acnnewswire.com