Hong Kong, Oct 6, 2023 - (ACN Newswire) - Hypebeast Limited (Stock Code: 0150.HK), a leading global platform for contemporary culture and lifestyle, wrapped up a two-day cultural festival, Hypefest Aranya, on the famous coast line of Qinhuangdao, China at the end of September. Following Hypefest's success in Brooklyn in 2018, its debut in China featured a diverse range of regional and international musical acts, as well as cultural and artistic installation in partnership with renowned brands around the world. Bringing together over 15,000 Hypebeast audiences over the 2-day period, the event offered an intimate experience of all things from music and art to fashion and creativity, and further strengthened Hypebeast's brand positioning in China.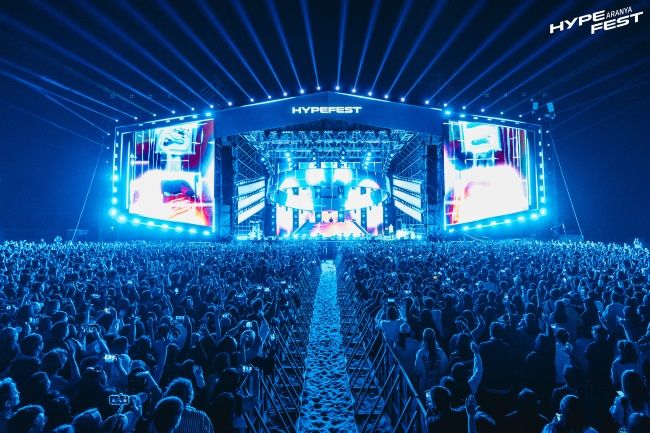 As physical campaigns resume in full capacity, the festival is a complement to Hypebeast's strong online presence, and broadens opportunities to monetize the Group's multifaceted ecosystem of digital platforms and creative agency in the market. Produced in collaboration with RYCE Entertainment and ALLIN Entertainment, the cultural festival featured an impeccable lineup of performers including Jackson Wang, Swae Lee, Aminé, Cordae, MC Jin and more; DJs from renowned labels Preme, Pulse and Yeti Out performed on a second stage and brought energy up high during the 2-day weekend.
Attendees had the opportunity to immerse in a series of installations and experiential pop-ups sponsored by a variety of brands, including adidas Originals, Marshall, Hennessy, GAP, Hoegaarden, Saucony Originals, Vans, Randomevent, Penfolds and more. The event garnered close to 30 million impressions across its social media platforms, including Hypebeast's WeChat, Little Red Book, Weibo, Douyin and Instagram accounts.
As a digital media company that engages in offering creative advertising services and advertising spaces for global brands in its Media Segment, Hypebeast debuted Hypefest in 2018 in New York City. The event hosted more than 10,000 attendees over a two-day period, and tickets for the event sold out within 3 minutes upon release.
Please download the event images here: https://bit.ly/hypefestaranya
For investor relations, please contact: investors@hypebeast.com
About Hypebeast Ltd. (Stock Code: 0150.HK)
Hypebeast is a leading global platform for contemporary culture and lifestyle, and a premier destination for editorially-driven news and commerce. Founded in 2005, it became a publicly listed media company in 2016, and today boasts a global readership across North America, Asia Pacific, Europe and more. The Group has expanded its publishing brands to a wider scope, encompassing Hypebeast and its multiple content distribution platforms, creative agency Hypemaker, and e-commerce and retail platform HBX. For more information, visit hypebeast.ltd.


Copyright 2023 ACN Newswire. All rights reserved. www.acnnewswire.com