TORONTO, ONTARIO , Mar 27, 2023 - (ACN Newswire) -  Palladium One Mining Inc. (TSXV: PDM) (OTCQB: NKORF) (FSE: 7N11) (the "Company" or "Palladium One") is pleased to report the discovery of a new high-grade nickel - copper zone ("Ember Zone") which is located 3.5 kilometers southwest of the Smoke Lake Zone (Figure 1) on the Tyko nickel - copper project, in Ontario, Canada ("Tyko Project").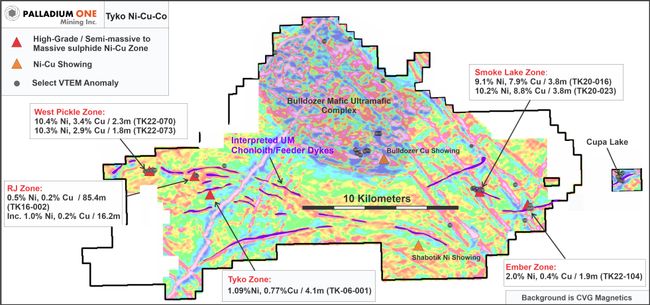 Figure 1. Tyko Property map showing various mineralized zones and multi-line VTEM anomalies, background is Calculated Vertical Gradient Magnetics ("CVG").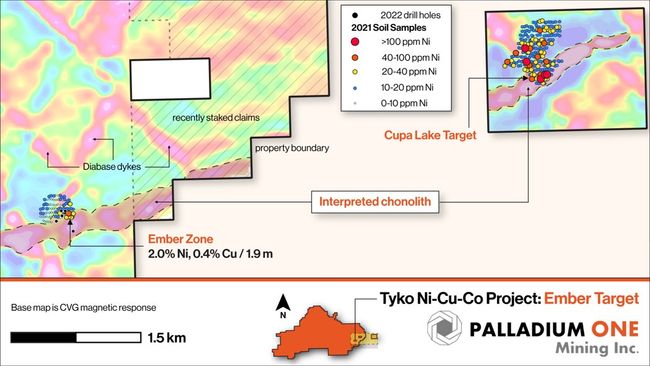 Figure 2. Ember Zone and Cupa Lake target showing drill holes, soil samples and recently staked claims (see the Company's new release dated January 26, 2023) which cover the eastern extension of the interpreted Chonolith / Feeder Dyke Structure.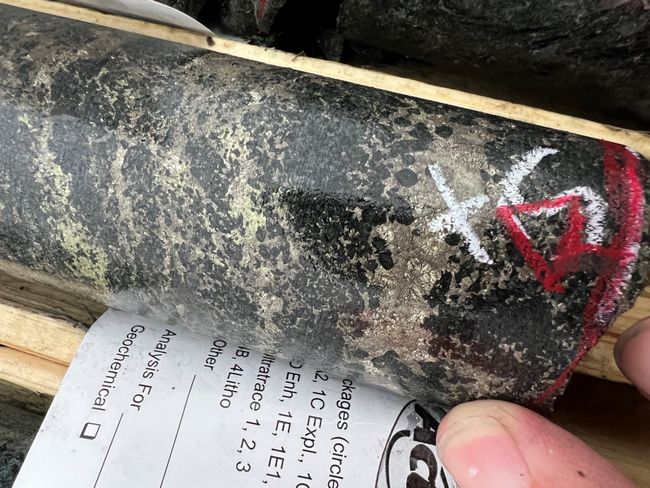 Figure 3. Semi-massive to net-textured sulphide consisting of pentlandite, chalcopyrite, and pyrrhotite hosted by pyroxenite in the Ember Zone (Hole TK22-100).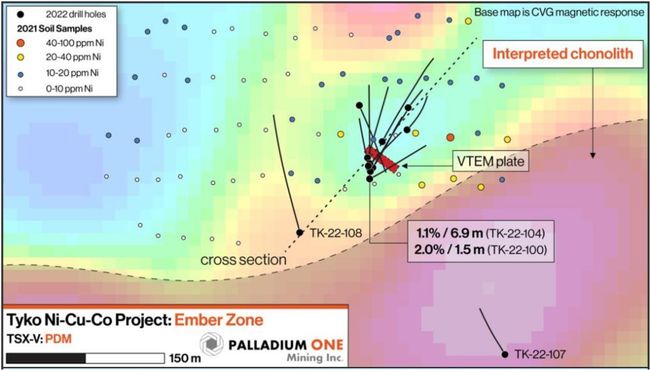 Figure 4. Ember Zone plan map and stylized cross section, with select significant intercepts looking northwest.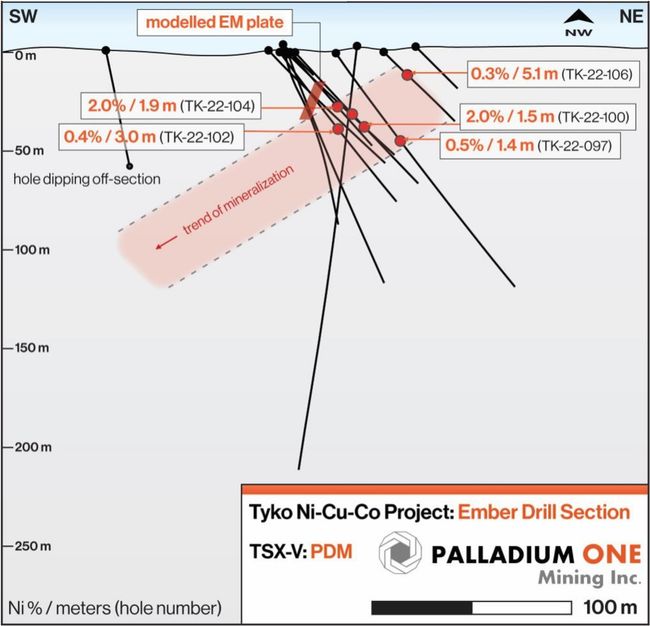 Figure 4. Continued
"The discovery of another high-grade nickel - copper zone at Tyko further supports our thesis that we have a significant new nickel camp on our hands. The Ember Zone exhibits many similarities to the nearby Smoke Lake Zone and other high-grade nickel - copper zones on the Tyko Project. Notably the Ember Zone is adjacent to an extensive interpreted Chonolith, which is on strike with the Cupa Lake VTEM / soil anomalies, suggesting Ember may be part of much larger mineralizing system," commented Derrick Weyrauch, President and Chief Executive Officer.

The Ember Zone was first identified by a moderate two line VTEM anomaly in 2021 (see the Company's news release dated October 28, 2021), reconnaissance soil sampling returned weakly anomalous nickel values up to 42 parts per million ("ppm"), and copper values up to 30 ppm (Figure 2). The weak geophysical and soil anomalies of the Ember Zone resulted in it being drill tested during Q4 2022, Its discovery reinforces the notion that any VTEM anomaly and even weak soil anomalies can point to high-grade nickel - copper mineralization on the Tyko Project.

Notably the Ember Zone is located just north of an interpreted lengthy east-west trending Chonolith / Feeder Dyke structure which is on strike with the Cupa Lake VTEM / soil anomaly (Figure 2). Cupa Lake represents a multi-line VTEM anomaly and a strong soil anomaly with values up to 132 ppm nickel and 512 ppm copper. Cupa Lake is a priority drill target which has an outstanding Exploration Permit application.

The geometry of the Ember Zone is not fully delineated, drilling to date was focused on defining the zone at shallow depths as the conductor's orientation was poorly defined by the airborne VTEM survey. Thus far, the zone appears to form a southwest plunging body toward the interpreted Chonolith / Feeder Dyke structure located to the South (Figure 3). Hole TK22-108 was drilled as a Bore Hole ElectroMagnetic ("BHEM") geophysical platform but deviated from the interpreted plunge of the zone. A BHEM survey is planned in Q2 2023 to better define the VTEM conductor and search for potential conductors at depth.

The 2022 drill program consisted of 70 holes totaling 13,038 meters, of which 14 holes are pending assay results. The 2023 field season is currently underway, with a high-resolution magnetic survey having been completed. The survey was designed to refine the geometry of the interpreted feeder dykes / chonoliths across the Tyko Project's 30-kilometer strike length prior to additional drill testing. The 2023 exploration program will continue to focus on these newly identified and interpreted Chonolith / Feeder Dyke structures on the 30,000-hectare Tyko Project (Figure 1).

Figure 1. Tyko Property map showing various mineralized zones and multi-line VTEM anomalies, background is Calculated Vertical Gradient Magnetics ("CVG").
https://images.newsfilecorp.com/files/6502/159861_9c58986a9486b8ed_001full.jpg

Figure 2. Ember Zone and Cupa Lake target showing drill holes, soil samples and recently staked claims (see the Company's new release dated January 26, 2023) which cover the eastern extension of the interpreted Chonolith / Feeder Dyke Structure.
https://images.newsfilecorp.com/files/6502/159861_9c58986a9486b8ed_002full.jpg

Figure 3. Semi-massive to net-textured sulphide consisting of pentlandite, chalcopyrite, and pyrrhotite hosted by pyroxenite in the Ember Zone (Hole TK22-100).
https://images.newsfilecorp.com/files/6502/159861_9c58986a9486b8ed_003full.jpg

Figure 4. Ember Zone plan map and stylized cross section, with select significant intercepts looking northwest. Hole TK22-108 was drilled as a geophysical platform hole for a future BHEM survey. Hole TK22-107 was drilled to test the interpreted Chonolith structure but failed to intersect any ultramafic rocks or explain the strong magnetic anomaly, the Chonolith structure remains to be tested.
https://images.newsfilecorp.com/files/6502/159861_9c58986a9486b8ed_004afull.jpg

Figure 4. Continued
https://images.newsfilecorp.com/files/6502/159861_9c58986a9486b8ed_004bfull.jpg

Table 1: Assay Results: Tyko 2022 Drill Results from New Ember Zone
https://www.acnnewswire.com/docs/Multimedia/20230327.Table1.jpg

Table 2: Drill Hole Locations for assay results from this News Release
https://www.acnnewswire.com/docs/Multimedia/20230327.Table2.jpg

QA/QC
The drilling program was carried out under the supervision of Neil Pettigrew, M.Sc., P. Geo., Vice President of Exploration, and a Director of the Company.

Drill core samples were split using a rock saw by Company staff, with half retained in the core box and stored onsite at the Tyko exploration camp core yard facility.

Samples were transported in secure bags directly from the logging facility at the onsite exploration camp, to the Activation Laboratories Ltd. ("Actlabs") in Thunder Bay, Ontario. Actlabs, which is ISO 17025 accredited with CAN-P-1579 (Mineral Lab). In addition to ISO 17025 accreditation, Actlabs is accredited/certified to ISO 9001:2015. All samples are crushed to 2 millimeters with a 250-gram split pulverized to 105 microns. Analysis for PGEs is performed using a 30 grams fire assay with an ICP-OES finish and for Ni, Cu, and Co using 0.25 grams by 4 acid digestion with ICP-OES finish. Ni, Cu and Co samples over 1.0 wt% were re-analysed by ore grade methods using 4 acid digestion with ICP-OES finish.

Certified standards, blanks and crushed duplicates are placed in the sample stream at a rate of one QA/QC sample per 10 core samples. Results are analyzed for acceptance within the defined limits of the standard used before being released to the public.

About Tyko Nickel - Copper - Cobalt Project
The Tyko Nickel - Copper - Cobalt Project, is located approximately 65 kilometers northeast of Marathon Ontario, Canada. Tyko is a high sulphide tenor, nickel - copper (2:1 ratio) project and currently has six known mineralized zones spanning over a 20 kilometer strike length.

Qualified Person
The technical information in this release has been reviewed and verified by Neil Pettigrew, M.Sc., P. Geo., Vice President of Exploration and a director of the Company and the Qualified Person as defined by National Instrument 43-101.

About Palladium One

Palladium One Mining Inc. (TSXV: PDM) is focused on discovering environmentally and socially conscious metals for green transportation. A Canadian mineral exploration and development company, Palladium One is targeting district scale, platinum-group-element (PGE)-copper-nickel deposits in Canada and Finland. The Lantinen Koillismaa (LK) Project in north-central Finland, is a PGE-copper-nickel project that has existing NI43-101 Mineral Resources, while both the Tyko and Canalask high-grade nickel-copper projects are located in Ontario and the Yukon, Canada, respectively. Follow Palladium One on LinkedIn, Twitter, and at www.palladiumoneinc.com.

ON BEHALF OF THE BOARD
"Derrick Weyrauch"
President & CEO, Director
For further information contact:
Derrick Weyrauch, President & CEO
Email: info@palladiumoneinc.com

Neither the TSX Venture Exchange nor its Market Regulator (as that term is defined in the policies of the TSX Venture Exchange) accepts responsibility for the adequacy or accuracy of this release.

Information set forth in this press release may contain forward-looking statements. Forward-looking statements are statements that relate to future, not past events. In this context, forward-looking statements often address a company's expected future business and financial performance, and often contain words such as "anticipate", "believe", "plan", "estimate", "expect", and "intend", statements that an action or event "may", "might", "could", "should", or "will" be taken or occur, or other similar expressions. These forward-looking statements include, but are not limited to, statements relating the 2023 exploration program and its focus and results; the pending results of the Company's previous drilling; the standards of testing; and other statements that are not historical facts. By their nature, forward-looking statements involve known and unknown risks, uncertainties and other factors which may cause our actual results, performance or achievements, or other future events, to be materially different from any future results, performance or achievements expressed or implied by such forward-looking statements. Such factors include, among others, risks associated with project development; the need for additional financing; operational risks associated with mining and mineral processing; fluctuations in palladium and other commodity prices; title matters; environmental liability claims and insurance; reliance on key personnel; the absence of dividends; competition; dilution; the volatility of our common share price and volume; and tax consequences to Canadian and U.S. Shareholders. Forward-looking statements are made based on management's beliefs, estimates and opinions on the date that statements are made and the Company undertakes no obligation to update forward-looking statements if these beliefs, estimates and opinions or other circumstances should change. Investors are cautioned against attributing undue certainty to forward-looking statements.

To view the source version of this press release, please visit https://www.newsfilecorp.com/release/159861

Copyright 2023 ACN Newswire. All rights reserved. www.acnnewswire.com