SYDNEY, AU, Oct 17, 2023 - (ACN Newswire) - Sage IT, a leader in digital transformation solutions and services, announced its expansion of global reach with a new office in Sydney, Australia.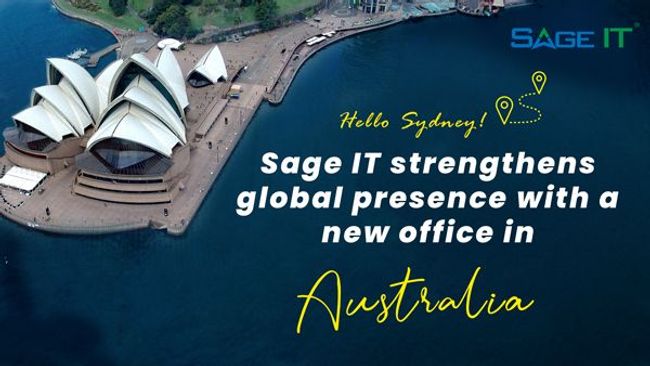 The new office represents a significant milestone in Sage IT's journey towards expanding its global footprint. With a commitment to excellence, Sage IT aims to provide expert services tailored to the distinctive needs of the Australian market, empowering businesses to upgrade their IT systems and adopt emerging technologies.
Sage IT's Australian business will be led by Mano Lekhwani, a seasoned professional with over 25 years of experience in establishing and managing regional business units for global companies. Mano stated, "We are truly excited to bring Sage IT's global expertise in digital transformation to Australia. Sage IT's established practices and partnerships have a proven track record of helping businesses worldwide. Now, these practices are primed to assist regional enterprises in integrating complex systems with confidence, automating processes efficiently, and leveraging innovation to achieve their operational goals."
Sage IT CEO, Sagar Pelaprolu, expressed his enthusiasm, "Sage IT's expansion into Sydney reflects our commitment to providing innovative solutions and 24x7 support to our global, as well as local, customers in Australia. The highly developed economy and positive receptiveness to technological improvements makes Australia a thriving hub for technology. Sage IT fits in as an ideal collaborator to partner with Australian enterprises to transform their IT systems using hybrid or multi-cloud solutions, adopt emerging technologies, and innovate using AI as they evolve and be ready to address the digital skills gap. We're eager to collaborate with local businesses and be a reliable partner of choice in driving digital transformation and innovation."
Sage IT empowers customers to achieve sustainable business outcomes by enabling them to be agile, scalable, and data-driven in the ever-changing multi-cloud landscape. As a trusted partner, we assist businesses in adopting composable solutions and hyperautomation to drive innovation and adapt to the demands of the modern market.
For more information about Sage IT's services and solutions, please visit https://sageitinc.com.
About Sage IT: Sage IT, headquartered in the Dallas-Fort Worth area of Texas, USA, is a renowned global leader in digital transformation and process optimization services. With a legacy of over 20 years, we have forged strategic partnerships with top-tier digital technology providers. Our global network of competency centers and a customer-centric approach underscore our commitment to revolutionizing business clockspeeds in the digital age. Serving a diverse range of industries, we empower businesses to excel in today's technology-driven landscape.
Contact Information
Shishir Vahia, AVP Marketing, marketing@sageitinc.com +1 214-619-2030


Copyright 2023 ACN Newswire. All rights reserved. www.acnnewswire.com