Singapore, 19 June 2023 - (ACN Newswire) - Gorilla Global ("Gorilla"), the mobile telecommunications arm of Society Pass Incorporated ("SoPa") (Nasdaq: SOPA), Southeast Asia's (SEA) next generation, data-driven, loyalty, fintech and e-commerce ecosystem, today announces the release of its next generation mobile telecoms app, offering a full suite of smart digital mobile communication solutions for travelers and working professionals in the SEA region.
Customers can now download Society Pass either on:
● Apple Store or
● Google Play.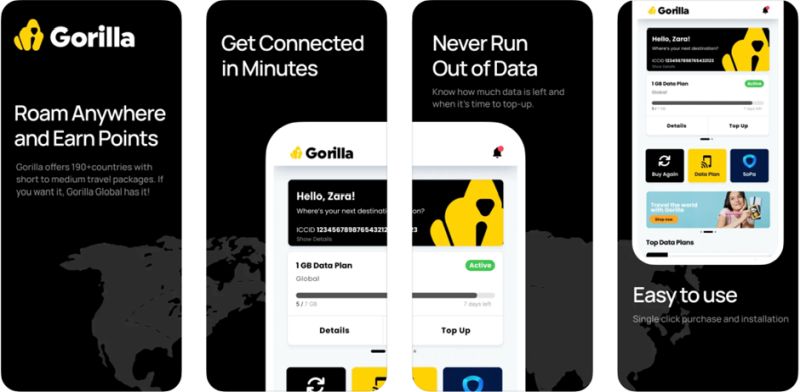 With the motto of "STAY CONNECTED, GET REWARDED", Gorilla works with over 500 mobile operators across 190 countries, providing affordable roaming mobile data to business travelers in the SEA region and around the world through its proprietary e-SIM product. Embedded in the user's mobile phone as a virtual SIM card, which eliminates the need for a physical SIM card, e-SIM technology offers the convenience of managing multiple cellular providers on a single device for traveling abroad and even separate plans for personal and business purposes. And later in 2023, Gorilla will launch its revolutionary Switchback Rewards feature, which allows any unused mobile data and credit to be converted into SOPA Loyalty Points and redeemed for rewards and offers across the SOPA platform. With a virtual mobile number, Gorilla's users access cost-effective data plans to enjoy a reliable internet connection worldwide. And through its tiered data plans, Gorilla's customers enjoy global mobile internet and have full control over their data spending.
Asia Pacific currently has over 100 million business travelers, representing more than 30% of the world's market. According to Amadeus, by 2025, corporate travel spending in Asia Pacific is forecast to double and account for half of the world's total. Rokas Sidlauskas, Chief Marketing Officer of SoPa, elaborates, "Gorilla's next-generation technology is targeted to the fast-growing business travel segment here in SEA. Our digital e-SIM product allows customers to buy data credit and to stay connected online with their mobile devices while traveling abroad. By 2H 2023, our suite of services will expand into local e-SIM provisions. Gorilla plans to offer a revolutionary Switchback Rewards feature, allowing any unused mobile data and credit to be converted into SOPA Loyalty Points and redeem them for awards across the ecosystem."
Going forward, customers can access Gorilla's services in the following manner: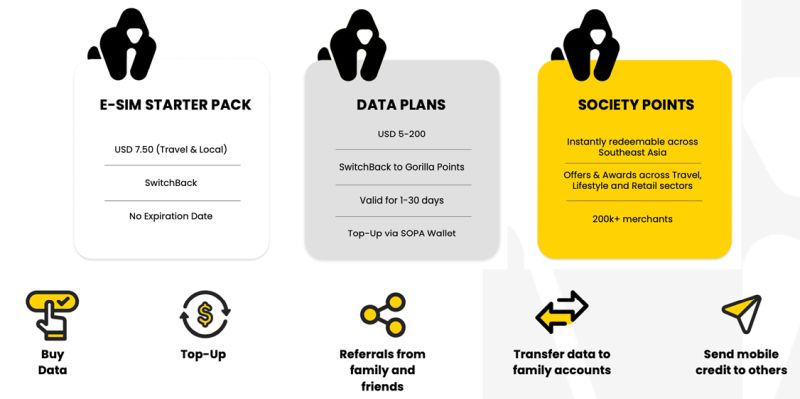 Howie Ng, Chief Technology Officer of SoPa, explains Gorilla's three main products:
1) Gorilla Local e-SIM enables users to acquire a temporary local phone number while traveling, make phone calls, receive SMS, OTPs and other data through conventional 4G/5G network. Features include:
●Local e-SIM product with full flexibility and control over required data and talk-time
●Comes with local number
●Switch unused data back to Gorilla Points with SwitchBack
●Available globally
●Strategic partnership with Society Pass
2) Gorilla Global Mobile App allows users to:
●Purchase & Activate Gorilla Global e-SIM Service
●Purchase, transfer and send data plans and mobile credit to business associates, family and friends
●SwitchBack unutilized data (later in 2023)
●Eliminate the need for multiple SIM cards when travelling
●Avoid high roaming charges
●Enjoy benefits of the next-generation telco solutions
3) Gorilla SwitchBack's features are the following:
●Unused data can be converted to SOPA Points using SwitchBack
●Proprietary technology, new age solution
●Transforming digital consumable into a digital rewards
●SwitchBack, save and redeem points to enjoy thousands of rewards
●No Limits, No Caps
About Society Pass Inc.
Founded in 2018 as a data-driven loyalty, fintech and e-commerce ecosystem in the fast-growing markets of Vietnam, Indonesia, Philippines, Singapore and Thailand, which account for more than 80% of the SEA population, and with offices located in Angeles, Bangkok, Ho Chi Minh City, Jakarta, Manila, and Singapore, Society Pass Incorporated (Nasdaq: SOPA) is an acquisition-focused holding company operating 6 interconnected verticals (loyalty, digital media, travel, telecoms, lifestyle, and F&B), which seamlessly connects millions of registered consumers and hundreds of thousands of registered merchants/brands across multiple product and service categories throughout SEA.
Society Pass completed an initial public offering and began trading on the Nasdaq under the ticker SOPA in November 2021.
SoPa acquires fast growing e-commerce companies and expands its user base across a robust product and service ecosystem. SoPa integrates these complementary businesses through its signature Society Pass fintech platform and circulation of its universal loyalty points or Society Points, which has entered beta testing and is expected to launch broadly at the beginning of 2023. Society Pass loyalty program members earn and redeem Society Points and receive personalised promotions based on SoPa's data capabilities and understanding of consumer shopping behaviour. SoPa has amassed more than 3.3 million registered consumers and over 650,000 registered merchants and brands. It has invested 2+ years building proprietary IT architecture to effectively scale and support its consumers, merchants, and acquisitions.
Society Pass leverages technology to tailor a more personalised experience for customers in the purchase journey and to transform the entire retail value chain in SEA. SoPa operates Thoughtful Media Group, a Thailand-based, a social commerce-focused, premium digital video multi-platform network; NusaTrip, a leading Indonesia-based Online Travel Agency; VLeisure, Vietnam's leading provider of hotel management and payment solutions; Gorilla Global, a Singapore-based, mobile network operator; Leflair.com, Vietnam's leading lifestyle e-commerce platform; and Pushkart.ph, a popular grocery delivery company in Philippines.
For more information on Society Pass, please visit:
Website at https://www.thesocietypass.com or
LinkedIn at https://www.linkedin.com/company/societypass or
Facebook at https://www.facebook.com/thesocietypass or
Twitter at https://twitter.com/society_pass or
Instagram at https://www.instagram.com/societypass/.
Cautionary Note Concerning Forward-Looking Statements
This press release may include "forward-looking statements," within the meaning of Section 27A of the Securities Act of 1933, as amended, and Section 21E of the Securities Exchange Act of 1934, as amended. All statements other than statements of historical fact included in this press release are forward-looking statements. When used in this press release, words such as "anticipate", "believe", "estimate", "expect", "intend" and similar expressions, as they relate to us or our management team, identify forward-looking statements. Such forward-looking statements are based on the beliefs of management, as well as assumptions made by, and information currently available to, the Company's management. Actual results could differ materially from those contemplated by the forward-looking statements as a result of certain factors detailed in the Company's filings with the SEC. All subsequent written or oral forward-looking statements attributable to us or persons acting on our behalf are qualified in their entirety by this paragraph. Forward-looking statements are subject to numerous conditions, many of which are beyond the control of the Company, including those set forth in the Risk Factors section of the Company's registration statement and prospectus relating to the Company's initial public offering filed with the SEC. The Company undertakes no obligation to update these statements for revisions or changes after the date of this release, except as required by law.
Media Contacts:
Rokas Sidlauskas
Chief Marketing Officer
rokas@thesocietypass.com


Copyright 2023 ACN Newswire. All rights reserved. www.acnnewswire.com