HONG KONG, Nov 14, 2023 - (ACN Newswire) - Widespread ChatGPT use and remote medical consultations have taken artificial intelligence (AI) and telemedicine into the mainstream, including treatment for vision problems. At the 21st Hong Kong International Optometric Symposium this year, professionals from Mainland China, the United States, Australia, the United Kingdom and Hong Kong, discussed AI and tele-optometry developments. They examined how technology could "open the eyes" of the visually impaired and reduce staffing pressure on primary healthcare. They also shared thoughts on whether technological advancements would endanger employment prospects for optometrists.
"This is an exciting time, as many technologies suited for the visually impaired can now be accessed through apps," said Dr Patrick D. Yoshinaga of the Marshall B. Ketchum University in the United States. Several AI-powered smartphone apps could identify objects after being trained through exposure to a large set of images. Users simply needed to point their smartphone camera at any object or text and listen to an audio narration describing it. Using Microsoft's Seeing AI as an example, Dr Yoshinaga pointed out that, six years ago, users would have had to wait several seconds for the app to respond after clicking on the screen, but no longer! He recalled that a blind working mother could use the app to read documents and find meeting locations at work, and help her daughter choose matching colours at home. She could even turn off the lights in her daughter's room after learning how bright the room was.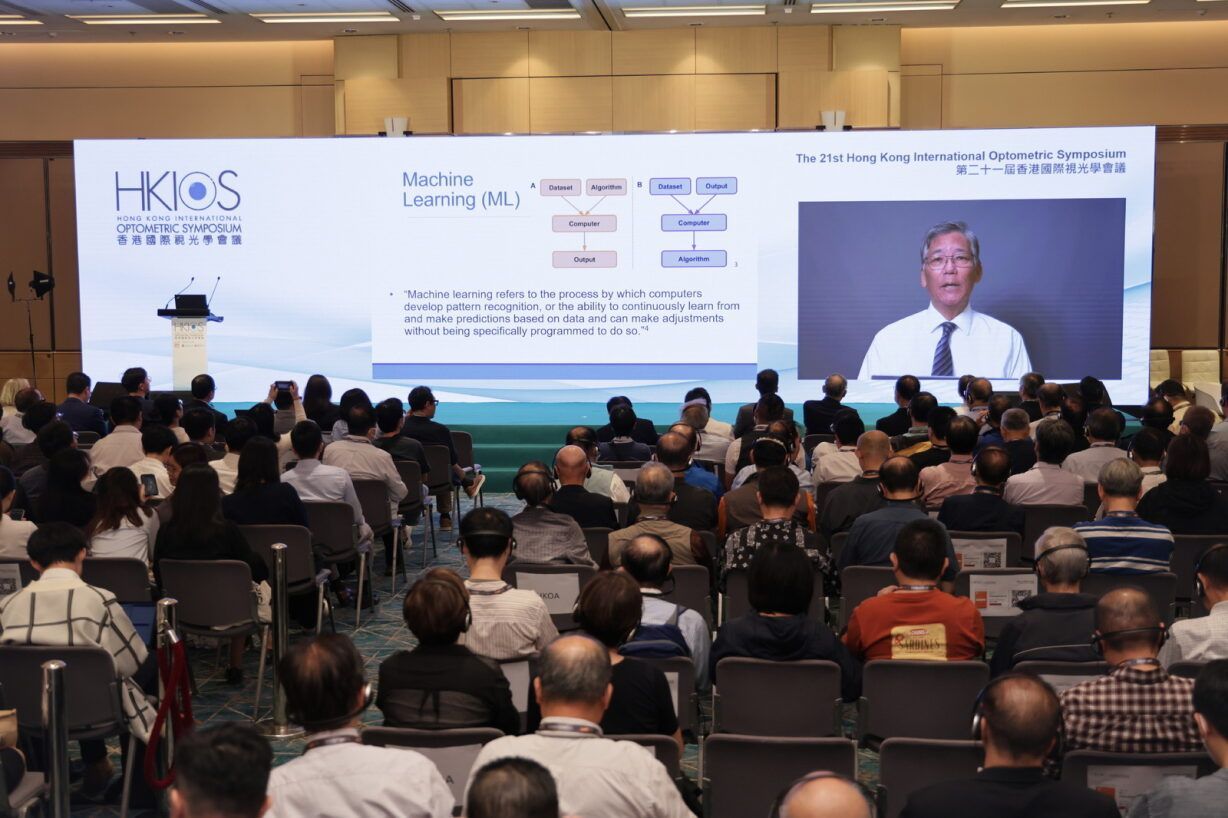 Dr Patrick D. Yoshinaga of the Marshall B. Ketchum University in the United States warned against the black-box effect during AI algorithm development, referring to people's inability to understand the AI algorithm or its decision-making process.
Visually impaired people can now wear AI glasses equipped with the GPT-4 language model and converse with them, reading menu contents for example. A user could even ask: "What types of vegetarian options are available?" and GPT-4 would summarise relevant dishes and respond conversationally. When the audience learnt that AI apps could serve as "eyes" for the visually impaired, some gasped in amazement and photographed presentation slides to capture the moment.
PolyU employs AI for diagnosis and brings Australian experience to Hong Kong
Globally, societies are contending with ageing populations and rises in diabetes cases. With healthcare providers in high demand, AI can offer relief. Professor Mingguang He of The Hong Kong Polytechnic University received a grant from the Australian government some years ago. He collaborated with universities in Hong Kong and healthcare technology companies to investigate AI use in eye disease diagnosis, as well as how this technology could be implemented in the community. His research in 2018 found that AI had a 90% or higher accuracy rate in detecting common eye diseases such as diabetic retinopathy, glaucoma and age-related macular degeneration. They subsequently installed a simple AI system in local GP clinics. Following an eye examination, fundus images were automatically transferred to the AI system for analysis, and the system could produce a report in two to three minutes.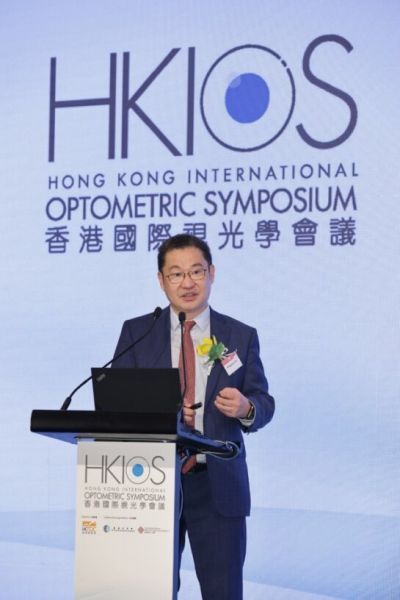 Discussing whether AI vision test failure may pose a liability risk for optometrists, Prof Mingguang He of The Hong Kong Polytechnic University noted that some insurance companies in the United States and Australia had already included coverage for AI errors.
"Previously, Australians were required to visit a clinic multiple times for diagnosis and report collection. That can now be accomplished in a single visit." Prof He said they designed the system to work without requiring an internet connection, after considering resources available at clinics. They also created a simplified version of the device for self-administered testing which could be bought for as little as HK$10,000. Prof He planned to gradually apply his Australian experience to Hong Kong's Smart Clinic Project, which is expected to benefit more than 200,000 grassroots citizens.
Eye-health software fills gaps in UK eye-care services
Another example of AI use came from Professor Benny Chung-ying Zee of The Chinese University of Hong Kong Jockey Club School of Public Health and Primary Care. He explained that AI analysis of retinal images allowed prediction of a patient's risk of stroke and cognitive impairment, allowing early intervention to improve lifestyle habits. This approach could also reduce the long-term burden that vision examinations would place on the healthcare system.
Dr Priya Morjaria of Peak Vision, a social enterprise in the United Kingdom that specialises in eye care, said 90% of vision-loss cases could be avoided if individuals received timely examination and assistance. Her social enterprise provided eye health screening software to help countries bridge eye-care service gaps. The system begins with a screening for eye conditions, followed by case triage, eyeglass prescriptions and even surgical intervention. All of this is documented in the system, lowering the possibility of patients in need of care not being followed up. She noted that the proportion of Pakistani men participating in her social enterprise's programmes had increased from 19% to 45%, approaching the ideal target of 50%.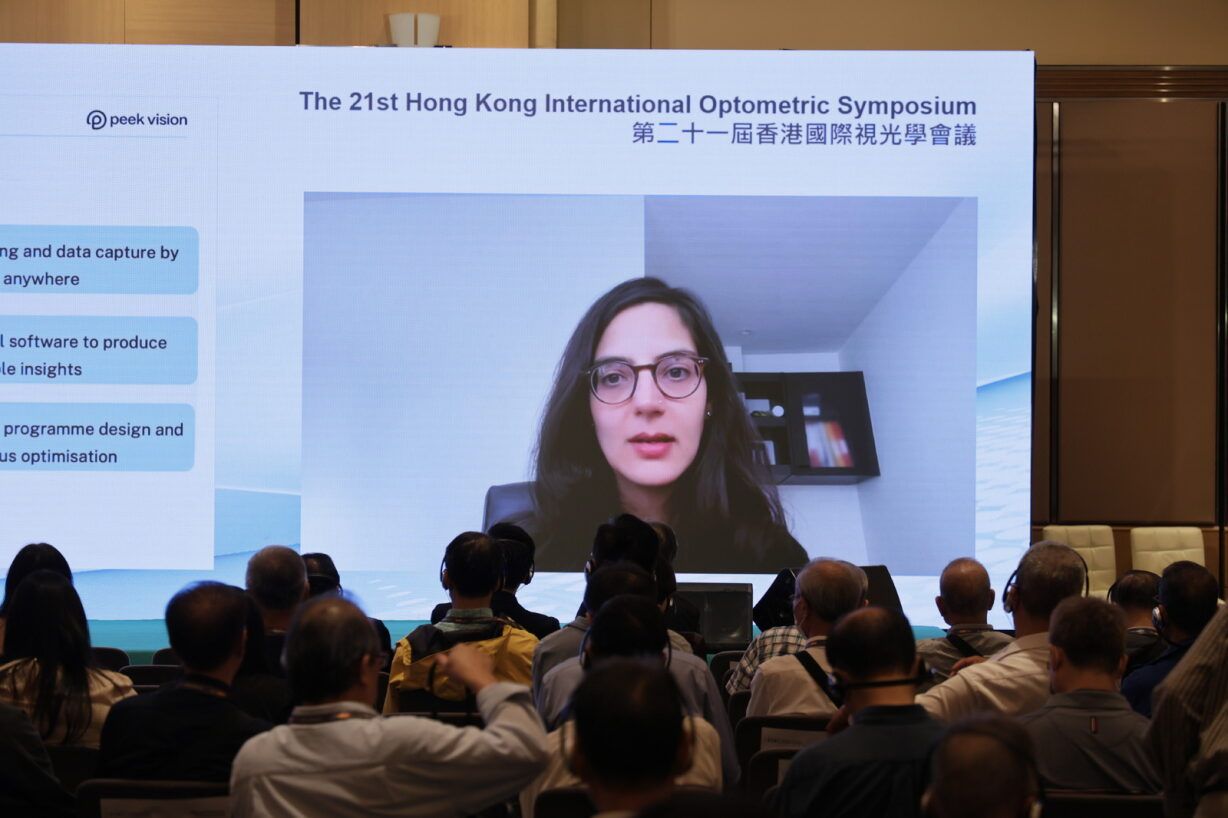 Dr Priya Morjaria's social enterprise, Peak Vision, designs software for remote eye examinations, collecting just the data needed.
Many audience members were optometry students concerned about how AI would affect employment prospects and how they could prepare themselves before entering the field. Prof He believed AI would not replace optometrists but help them work more efficiently. Eye examination and reporting used to take three days to complete but with AI assistance, these tasks took just 30 minutes. Dr Morjaria added: "AI will not take away your job. Patients always need to see a person. They always want to find a clinician to make a final decision." Nevertheless, she reminded students to be aware of the evidence underlying AI decisions and advised them not to accept the finding for what it is, but to learn about and understand AI in order to interpret the evidence presented.
Photo download: https://bit.ly/47ph7Bi
WebsitesHong Kong International Optical Fair: https://www.hktdc.com/event/hkopticalfair/en  Intelligence Hub: https://www.hktdc.com/event/hkopticalfair/en/intelligence-hub
Media enquiriesPlease contact the HKTDC's Communication and Public Affairs Department:Frankie Leung, Tel: (852) 2584 4298, Email: frankie.cy.leung@hktdc.orgPhyllis Tsang, Tel: (852) 2584 4288, Email: phyllis.km.tsang@hktdc.org
To view press releases in Chinese, please visit http://mediaroom.hktdc.com/tc
About HKTDC
The Hong Kong Trade Development Council (HKTDC) is a statutory body established in 1966 to promote, assist and develop Hong Kong's trade. With 50 offices globally, including 13 in Mainland China, the HKTDC promotes Hong Kong as a two-way global investment and business hub. The HKTDC organises international exhibitions, conferences and business missions to create business opportunities for companies, particularly small and medium-sized enterprises (SMEs), in the mainland and international markets. The HKTDC also provides up-to-date market insights and product information via research reports and digital news channels. For more information, please visit: www.hktdc.com/aboutus. Follow us on Twitter @hktdc and LinkedIn


Copyright 2023 JCN Newswire. All rights reserved. www.jcnnewswire.com