Makassar, Indonesia, Oct 13, 2023 - (ACN Newswire) - The ASEAN Disability Forum has produced the "Makassar Recommendations" to strengthen commitment to empowering persons, realizing inclusivity, and elevating the dignity of persons with disabilities.  These Recommendations waere produced at the ASEAN High Level Forum on Disability Inclusive Development and Partnership beyond 2025 in Makassar on 10-12 October 2023.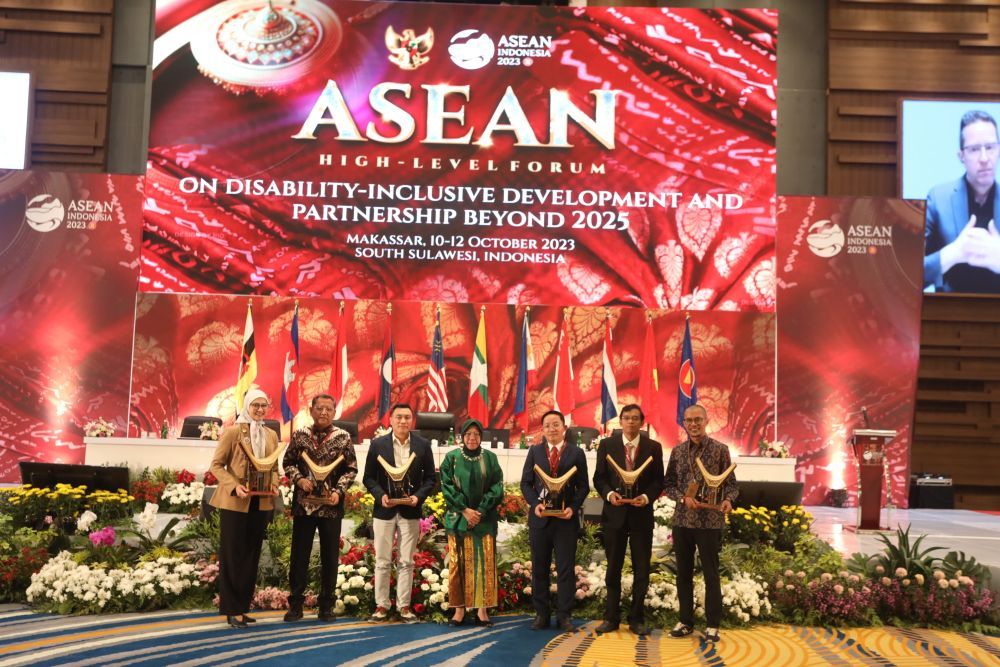 ANTARA/Ministry of Social Affairs
The Recommendations were submitted after the participating ASEAN member countries led by Indonesia formulated a draft recommendation.  The forum attended by around 200 participants, was one of a series of ASEAN Summits under the chairmanship of Indonesia.  Apart from ASEAN member countries, there were also participants from the United States, England, Australia, as well as from the ASEAN Secretariat, various organizations for persons with disabilities, the ASEAN Disability Forum and various other partners.
The participants jointly formulated innovative strategies to realize socio-regional inclusiveness, empower persons with disabilities, and strengthen partnerships.  The Forum hopes that ASEAN will become the epicentrum of sustainable growth of inclusiveness.
Following two days of deliberations, 10 recommendations were finally produced and named the "Makassar Recommendations".  These recommendations were read out by Commissioner of the National Commission on Disabilities (KND) Eka Pratama before the closing of the forum on Wednesday, 11 October 2023.
The Makassar Recommendations (10):
First, accelerating the implementation of the ASEAN Enabling Masterplan 2025 by mainstreaming the rights of persons with disabilities in ASEAN cooperation.
Second, further support the review and report on the implementation of the ASEAN Enabling Masterpan 2025 by including the participation of persons with disabilities.
Third, ensuring disability inclusive development as a fundamental part of the ASEAN Community Vision 2045.
Fourth, encouraging ASEAN Dialogue Partners to mainstream empowerment and rights of persons with disabilities through collaboration with ASEAN, including in providing disability inclusive infrastructure.
Fifth, provide more innovative social welfare and development policies to empower and protect the rights of persons with disabilities.
Sixth, increase joint efforts to ensure equal participation and access for persons with disabilities in public services and eliminate barriers to stigma and discrimination such as education, health, employment.
Seventh, strengthen efforts to provide better and more inclusive disability data.
Eighth, strengthening access to supporting technology based on appropriate needs to increase access to inclusive education, health interventions, employment, and entrepreneurship.
Ninth, strengthens public understanding and awareness regarding persons with disabilities and their rights, as well as countering negative perceptions, and encouraging mutual respect and understanding.
Tenth, encourages the business sector to commit to promoting and implementing disability-inclusive business models and value chains, as well as supporting better access for persons with disabilities to employment, including as entrepreneurs.
Besides conveying 10 recommendations, participants from ASEAN countries also expressed their appreciation to Indonesian government, especially Ministry of Social Affairs for conducting ASEAN High Level Forum.
Disability Inclusive
In her closing speech, Minister of Social Affairs Tri Rismaharini said that disability inclusion is an approach, a perspective that needs to become mainstream in all sectors, including education, health, employment, political-security, trade and investment.
"Disability inclusive development requires collaboration and not working separately. The government, private sector and organizations of persons with disabilities must synergize and work together," said the Minister.
The Minister also emphasized the need to strengthen the availability of disability data, so that appropriate policies and interventions can be made.  Minister of Social Affairs also emphasized that entrepreneurship and advancing technology and innovation are real efforts to empower persons with disabilities and increase their independence.
No less important, the Minister emphasized, "All parties must work together to increase public awareness so that people do not see disability as a handicap. Society will see that persons with disabilities can also contribute and play an important role in society."
Tendi Gunawan of the International Labor Organization (ILO) Jakarta said that currently there is still employment discrimination against persons with disabilities. However, if given the opportunity, persons with disabilities also have the same abilities.
Angkie Yudistia, Special Staff to the President of the Republic of Indonesia, said that all persons with disabilities can live independently. "It remains for all parties to work together to provide opportunities and trust for persons with disabilities to work," she said.
Source:  Minister of Social Affairs of the Republic of Indonesia


Copyright 2023 JCN Newswire. All rights reserved. www.jcnnewswire.com