Singapore, Oct 11, 2023 - (JCN Newswire) - Artificial intelligence (AI) has experienced a breakout year in 2023. The rapid democratisation of AI is leading to a surge in wide-spread adoption across industries, with many companies integrating the burgeoning technology into their products. However, the brave new world of AI brings about new challenges such as cybersecurity, sustainability and ethical concerns. Balancing the risks and rewards of AI was one of the hottest topics at Tech Week Singapore, Asia's leading technology event organised by CloserStill Media. More than 600 technology pioneers, leading businesses, and public leaders convened to discuss the complexities of AI.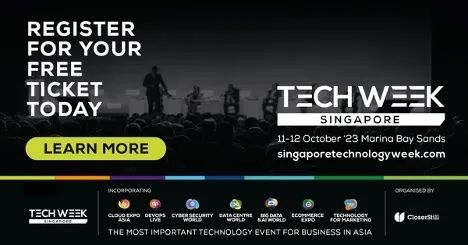 "In 2022, the world woke up to ChatGPT, and for many of us, this moment ushered in a new era for Generative AI," remarked Dr. Aik Beng Ng, Regional Manager of NVIDIA AI Technology Centre. "We are just beginning to realise the true potential of AI where it meets the physical world. Currently the AI experience is very much digital. The next generation of AI is where AI meets the full extent of every industry out there such as transportation, manufacturing, and more."
However, the benefits of AI are matched with threats in equal measure. Dr. Magda Chelly, Co-founder of Responsible Cyber, said: "On one hand, AI technologies have the potential to amplify cyberthreats, weaving a web of complexities, including its usage by various stakeholders in an ecosystem. This phenomenon would raise exponential risks, and might create a domino effect when a cyberattack or data breach happens. Such a scenario might not only lead towards a disruption but a full-scale interruption within a wider supply chain and ecosystem."
She added: "Yet, we also see an unparalleled opportunity for AI to bolster our cyber defences, especially when incorporated into data analysis and process optimisation. By embracing AI in cybersecurity and third-party risk management strategies, businesses gain a clearer visibility into the cascading risks in their ecosystems. It's crucial to understand that AI doesn't merely represent the threat horizon but is an essential ally in navigating it."
At Cyber Security World Asia, the Singapore-based startup Responsible Cyber unveiled IMMUNE X-TPRM, their innovative AI-powered platform that not only monitors real-time ecosystem and third-party risks, but also anticipates risk scenarios, ensuring businesses remain steps ahead of potential breaches, while simultaneously enhancing operational efficiency and compliance through intelligent automation.
In the gold rush towards AI, it is also important to pay attention to data centres as the critical infrastructure supporting the greater demand for computing power. The server computer density that AI requires also generates significant heat and consumes a large amount of water for cooling, which presents energy efficiency and sustainability challenges. Governments are emphasising the importance of sustainable growth with countries such as Singapore announcing a sustainability standard for data centres operating in tropical climates.
Schneider Electric Singapore recently announced they are investing SGD1.2 million to collaborate with the Sustainable Tropical Data Centre Testbed in Singapore. This announcement is in the lead-up to their keynote speech at Data Centre World Asia on key strategies to measure and manage sustainability in data centres on October 12th.
"2023 marks the year that AI exploded into public consciousness. As we enter this new age of AI, there are more questions than answers. How can leaders separate tactics from media noise and what are the priorities for business leaders entering this new AI-enabled future? What strategies will make sense to a small-medium enterprise versus a multinational corporation?," said Andy Kiwanuka, Managing Director for Asia Pacific at CloserStill Media. "At the heart of Tech Week Singapore is a multi-layered content programme for leaders to share best practices and envision new possibilities where technology is the enabler for a better future."
Tech Week Singapore will run until 12 October 2023 at the Sands Expo and Convention Centre.
To register for free, please visit https://www.gevme.com/Tech-Week-2023-visitor-registration
About CloserStill Media
CloserStill Media is a leading producer of international B2B tradeshows. Its portfolio of technology events reaches five global territories, more than 70,000 delegates, and over 2,500 exhibitors. Award-winning events include Tech Show London and Tech Week Singapore, an umbrella brand featuring the popular Cloud Expo Asia and Data Centre World Asia. CloserStill Media is repeatedly recognised as a leading innovator and employer with winners of Best Marketing Manager, Best Trade Exhibition, Best Launch Exhibition, Rising Star, and more. CloserStill is headquartered in London, with offices in Singapore, North America, and Europe. For more information, visit www.closerstillmedia.com.
For media enquiries, please contact:
Jaclyn Phan                                                             Mutant Communications for CloserStill Mediajaclyn@mutant.com.sg                                                          +65 9081 2448
Shannen Tan                                               Mutant Communications for CloserStill Mediashannen@mutant.com.sg                                                      +65 9660 5210


Copyright 2023 JCN Newswire. All rights reserved. www.jcnnewswire.com