HONG KONG, Oct 4, 2023 - (ACN Newswire) - The Hong Kong Electronics Fair (Autumn Edition), organised by the Hong Kong Trade Development Council (HKTDC), and electronicAsia, organised by the HKTDC and MMI Asia Pte Ltd, will run concurrently from 13 to 16 October at the Hong Kong Convention and Exhibition Centre (HKCEC). Shortly after, the Hong Kong International Lighting Fair (Autumn Edition) will run at the HKCEC from 27 to 30 October and Hong Kong International Outdoor and Tech Light Expo from 26 to 29 October at AsiaWorld-Expo.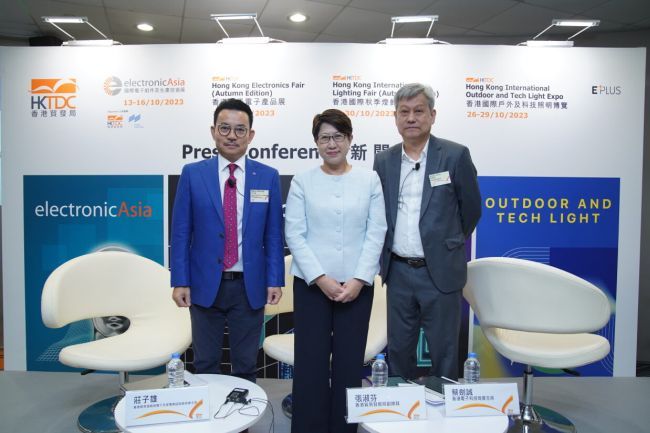 Sophia Chong, Deputy Executive Director of the HKTDC (centre); Steve Chuang, Chairman of the HKTDC Electronics/Electrical Appliances Industries Advisory Committee [L]; and Victor Choi, Chairman, Hong Kong Electronics & Technologies Association [R]
The four fairs, hosting over 6,200 exhibitors from 35 countries and regions, will present a wide range of top-notch smart products and solutions, related services and information, lighting products and technologies for many industries, bringing exhibitors and buyers cross-sectoral business opportunities.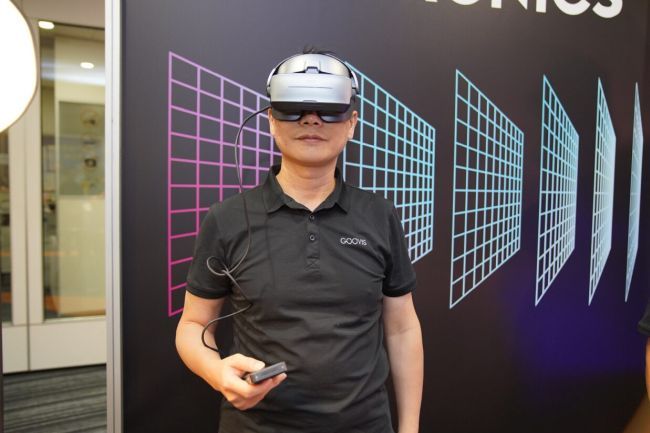 GooVision Technology Company Limited, an EFAE exhibitor, showcases a headset that brings excellent Extended Reality (XR) experience
Sophia Chong, Deputy Executive Director of the HKTDC, told the pre-event press conference: "October is the peak season for exhibitions. The four exhibitions we launch this month attract a number of innovative companies with strong potential, gathering exhibitors not just from local, but also from Mainland China, Taiwan, Japan, Korea, Indonesian, Malaysia, Singapore, and other countries and regions; and European countries such as Denmark, France, Germany and Switzerland; as well as the United States. It shows that the industry is actively seizing the huge opportunities brought about by innovation and technology to expand business opportunities through the fairs."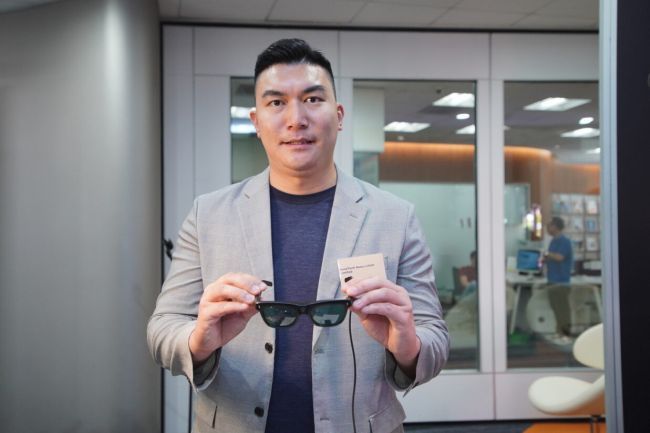 InnoTech Association Limited will showcase at Electronics Fair smart glasses that utilise artificial intelligence computer vision to convert text into speech for visually impaired individuals
Three highlight zones filled with top of the range technology companies
The Electronics Fair and electronicAsia will host nearly 3,200 exhibitors from 22 countries and regions. Themed New Tech. New Trend. New Lifestyle, the electronics show will bring together a plethora of smart home and office products, such as IoT household goods, health and beauty care products, home and office appliances, entertainment and game products and more, opening up an exciting indoor digital world for the public as artificial intelligence (AI) applications proliferate. The fair also launches outdoor products – including in-vehicle electronics and navigation systems, mobile chargers, sports, camping and outdoor goods – offering users an interesting and enjoyable outdoor life.
The old wing of HKCEC will be dedicated to showcasing technology products and services, including products and solutions utilising deep tech. Among them, the Tech Hall will highlight the latest virtual reality (VR) and augmented reality (AR) products and robotics inventions; whereas in the Start-up Zone, technology entrepreneurs will present innovative and promising products and solutions. In addition, there are zones showcasing a diverse range of electronic products including connected home items, computer and electronic gaming products, as well as in-car devices.
The new wing of HKCEC will primarily showcase appliances and consumer products. Among them, the Hall of Fame Zone will showcase consumer electronics products from renowned brands around the world, providing the public with a convenient and tasteful smart life; the debut Energy Storage Zone will showcase high-capacity mobile chargers.
The fair has attracted a number of top-tier exhibitors including Italian home appliance brand LAICA, Japan's Toshiba Lifestyle Products & Services Corporation, a Hong Kong-listed company providing IoT solutions Tuya (HK) Limited; a tech firm invested by Haier Group, Qingdao Thunderobot Technology Co.,Ltd; and Huizhou TCL Mobile Communication Company Limited.
At electronicAsia, a wide range of electronics parts and components and related solutions will be showcased, from keyboards and switches, power supplies and photovoltaic (PV) technologies for renewable energy solutions, printed circuit boards and EMS, display technology, to test and inspection equipment. First-time participants of the fair include Amicro Semiconductor Co., Ltd., a "little giant" from Zhuhai listed as a top performer among small and medium-sized enterprises (SMEs) for its exceptional mastery of key technologies and remarkable innovation capacity. In addition, OncQue Corporation from Taiwan, a company specialising in development of technological devices such as vibration sensors and optical sensors, will also be at the fair.
With the support of the Hong Kong Science and Technology Parks, IOTHK Association and Jumpstart, the Start-up Zone brings nearly 80 exhibitors with eye-opening technologies. Among them, Hong Kong enterprise Full Nature Farms revitalised industrial premises into an indoor farm, using the biomimicry farming techniques and Artificial Intelligence of Things (AIoT) to efficiently cultivate affordable organic vegetables and edible flowers.
Symposium on Innovation & Technology discusses key technology issues on first day
A number of seminars and events at the fairs will examine key technology issues. The Symposium on Innovation & Technology, jointly organised by the HKTDC and Hong Kong Electronics & Technologies Association, will be held on the first day (13 October). Prof Dong SUN, JP, Secretary for Innovation, Technology and Industry Bureau, will officiate at the event and deliver opening remarks. Themed Unlocking Possibilities: Harnessing AI for Innovation in Consumer Electronics, the forum has invited heavyweight speakers to share insights on industry-related topics, explore the applications and opportunities of generative AI, and discuss hot topics such as metaverse, VR and XR (Extended Reality), and sustainable development.
The Hong Kong Electronic Forum, co-organised by the HKTDC, MMI Asia Pte Ltd and the Hong Kong Electronic Industries Association, will be held on the second day of the fair to explore multiple hot issues such as microelectronic ecosystems. The Reliability and Prognostics Health Management of Microelectronics Forum will be held on the closing day of the fairs.
At other events, including the Investment Matchmaking, Hong Kong Value Creation for Technology: Pitching Competition and Meet the Mentors, start-ups will promote innovative ideas, invite support from investors and seek advice from experts on business development.
Connected Lighting Zone launches at Autumn Lighting Fair
Under the theme Light Up Every Opportunity, the Hong Kong International Lighting Fair (Autumn Edition) and Hong Kong International Outdoor and Tech Light Expo will gather more than 3,000 exhibitors from over 30 countries and regions. The 25th Autumn Lighting Fair this year introduces the Connected Lighting Zone, highlighting smart and IoT-enabled lighting solutions from renowned international companies and brands, including Leedarson, Midea, Snappy, Quectel, as well as members of DALI Alliance and Shanghai Pudong Intelligent Lighting Association. Another highlighted zone - Hall of Aurora - will also bring together premium lighting products from top-tier global brands, including Megaman, Prosperity Group and Signify. Other thematic zones include Commercial Lighting, Residential Lighting, LED Lighting, LED Essentials, Smart Lighting & Solutions.
Outdoor and Tech Light Expo spotlights sustainable lighting design
The Hong Kong International Outdoor and Tech Light Expo will present such product zones as Exterior Lighting Solutions and Systems, Horticultural Lighting, Innobuild, Outdoor Advertising Lighting, Outdoor and Public Lighting as well as Technical and Professional Lighting.
The Lighting Fairs will feature forums and seminars including the Connected Lighting Forum at the HKCEC from 27 to 28 October, with the themes of Unlocking New Realms in Connected Lighting and Smart Lighting for Healthy Living. Seminars for Outdoor and Tech Light Expo, themed Sustainable Lighting Design and Energy Solutions for a Greener Future in Hong Kong, will also be held at AsiaWorld-Expo on 26 and 27 October.
During the fair period, free shuttle bus service will be provided for registered exhibitors and buyers between the HKCEC and AsiaWorld-Expo.
Under the EXHIBITION+ hybrid model, exhibitors and buyers can use the Click2Match smart business matching platform to conduct online meetings, in addition to attending the physical fair, and  participants from all industries and buyers are welcome to join.
WebsitesHong Kong Electronics Fair (Autumn Edition): https://hkelectronicsfairae.hktdc.com electronicAsia: http://www.electronicasia.comHong Kong International Lighting Fair (Autumn Edition): https://hklightingfairae.hktdc.comHong Kong International Outdoor and Tech Light Expo: https://hkotlexpo.hktdc.com
Photo Download: https://rb.gy/2i5jo
Media enquiriesThe HKTDC's Communications and Public Affairs Department:Hong Kong Electronics Fair (Autumn Edition)electronicAsiaFrankie Leung, Tel: (852) 2584 4298, Email: frankie.cy.leung@hktdc.orgJanet Chan, Tel: (852) 2584 4369, Email: janet.ch.chan@hktdc.org
Hong Kong International Lighting Fair (Autumn Edition)Hong Kong International Outdoor and Tech Light ExpoSnowy Chan, Tel: (852) 2584 4525, Email: snowy.sn.chan@hktdc.org
About HKTDC
The Hong Kong Trade Development Council (HKTDC) is a statutory body established in 1966 to promote, assist and develop Hong Kong's trade. With 50 offices globally, including 13 in Mainland China, the HKTDC promotes Hong Kong as a two-way global investment and business hub. The HKTDC organises international exhibitions, conferences and business missions to create business opportunities for companies, particularly small and medium-sized enterprises (SMEs), in the mainland and international markets. The HKTDC also provides up-to-date market insights and product information via research reports and digital news channels. For more information, please visit: www.hktdc.com/aboutus. Follow us on Twitter @hktdc and LinkedIn


Copyright 2023 JCN Newswire. All rights reserved. www.jcnnewswire.com