BALI, INDONESIA, Oct 12, 2023 - (ACN Newswire) - Indonesia, as host of the 1st High-Level Meeting of the Archipelagic & Island States (AIS) Forum, has called for the collaboration of AIS Forum participating countries to respond to various global challenges.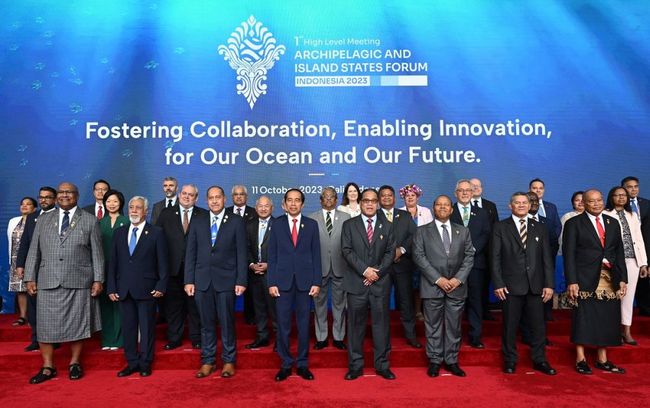 President Joko Widodo speaks during a press conference following the 1st High-Level Meeting of the Archipelagic and Island States (AIS) Forum in Nusa Dua, Bali, on October 11, 2023. (ANTARA FOTO/Media Center KTT AIS Forum 2023/Akbar Nugroho Gumay/Spt)
Indonesian President Joko Widodo (Jokowi), while opening the high-level meeting in Nusa Dua, Bali, on Wednesday, highlighted that all archipelagic and island countries, whether large or small, developed or developing, are facing challenges, such as rising sea levels, marine resource management, and marine pollution.
"If we throw rubbish on land, it does not necessarily mean that the rubbish will move to land in another part of the world. However, if we throw rubbish into the ocean, the rubbish can reach any land in the world," he said.
The president deemed collaboration and solidarity between archipelagic and island countries crucial to creating strategic, concrete, and tactical measures for tackling shared problems. The high-level meeting is deemed an important opportunity to set the direction of collaboration going forward.
In this regard, he encouraged three aspects to be advanced: solidarity, equality, and inclusivity as principles that must be held together; priority on concrete cooperation that is adjusted to the needs of beneficiary countries; and third, robust and dynamic cooperation framework to respond to challenges going forward.
"Indonesia would like to invite all countries that are present; let us continue to choose to continue to build unity and continue to build collaboration even amid a divided world condition. Let us walk and work together," Jokowi stated.
On that occasion, President Jokowi noted that Indonesia has also continued to echo the interests of archipelagic and developing countries at various international forums, such as in the 2022 G20 Summit, the 2023 ASEAN Summit, and the 2023 AIS Forum high-level meeting. "Indonesia is also committed to preparing grant funds to be used for the interests of archipelagic countries and developing countries," he said.
At a press conference held after the meeting, President Jokowi highlighted that developing and archipelagic countries have the same right to advance and carry out development. He also affirmed that Indonesia, as a maritime nation, would continue to be at the forefront of supporting the AIS Forum as an inclusive cooperation of archipelagic and island countri For Indonesia, the sea is not a divider; but instead, the sea is a uniter," he remarked.
Indonesia is hosting the 1st High-Level Meeting of the AIS Forum, which is attended by 32 countries out of 51 AIS countries and four international organizations. The high-level meeting raises the themes of the Blue Economy; Our Ocean, Our Future; and Solidarity.
At the head-of-state level, Indonesia noted the participation of President of the Federated States of Micronesia Wesley Simina, Prime Minister of Timor-Leste Xanana Gusmao, the Premier of Niue Dalton Tagelagi, Prime Minister of São Tomé and Príncipe Patrice Emery Trovoada, and Prime Minister of Tuvalu Kausea Natano. Deputy Prime Minister of Fiji Manoa Seru Nakausabaria Kamikamica and Deputy Prime Minister of Tonga Samiu Kuita Vaipulu were also in attendance at the meeting.
Meanwhile, delegations of other countries are led by ministers, deputy ministers, high-ranking officials, and ambassadors during the high-level meetings.
Source: Antara News Agency, https://www.aisforum.org/


Copyright 2023 JCN Newswire. All rights reserved. www.jcnnewswire.com