TOKYO, June 1, 2023 - (JCN Newswire) - JCB Co., Ltd., Japan's only international payment brand, is accelerating its efforts to achieve carbon neutrality to contribute to the development of a sustainable society. We announce the reduction rate of our greenhouse gas ('GHG') emissions for FY2022.
In response to the Paris Agreement on Climate Change[1] adopted in December 2015 and the subsequent international momentum towards carbon neutrality, JCB aims to reduce its own GHG emissions on a global basis by switching to CO2-free electricity and implementing energy-saving measures in our offices around the world. Last year, JCB set the following targets, which are in line with the pace of emissions reduction of the Glasgow Climate Pact[2].
GHG emission reduction goals
(1) Reduce GHG emissions by more than 50%[3] in FY2022 compared to FY2013.
(2) Reduce GHG emissions by more than 80% in FY2025 compared to FY2013.
(3) Aim for Net-zero GHG emissions in FY2030
JCB achieved the first goal by reducing GHG emissions by 54.4% in FY2022 compared to FY2013. In some offices, JCB has switched to CO2-free electricity and implemented energy-saving measures such as introducing LED lighting, upgrading air-conditioning, adjusting air-conditioning operating hours, etc. JCB will continue to work on reducing GHG emissions.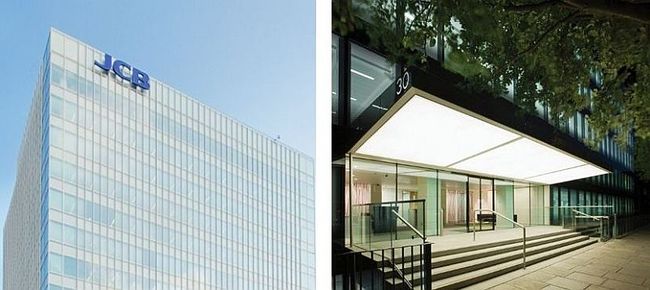 JCB is also involved in environmentally friendly activities, such as supporting mangrove plantations and contributing to the Malama Hawaii initiative promoted by the Hawaii Tourism Authority.
Since 2016, JCB has been supporting mangrove plantations in the coastal areas of Central Java, the Republic of Indonesia, through the OISCA Foundation. As a cashless business that issues written documents such as payment statements, the company aims to reduce its environmental impact and contribute to GHG absorption by supporting the planting of mangroves, which are the main raw material for paper. In addition, mangrove forests play a role of natural breakwaters, helping to preserve and improve the living and residential environment of villages in the plantation areas, as well as boosting the village economy through ecotourism and providing the opportunities for children to learn about the environment through the use of mangrove forests.

In Hawaii, which is visited by many JCB cardmembers, JCB supports the Malama Hawaii Program in collaboration with the Hawaii Tourism Authority to ensure that the beautiful paradise of Hawaii will continue to be a wonderful destination for decades and centuries to come. Malama means "give back" in Hawaiian, and "Malama Hawaii" is the Hawaiian version of the responsible tourism slogan.
JCB contributes to Hawaii's environmental preservation activities through a joint project with Halepuna Waikiki by Halekulani. It allows guests who stay at the hotel and use their JCB Cards to plant legacy trees on North Shore through the activities of Hawaiian Legacy Reforestation Initiative, a nonprofit organization. This is a great way to contribute to the reforestation and protection of Hawaii's natural environment.
For more information of Malama Hawaii, click here. https://www.gohawaii.com/malama

About JCB
JCB is a major global payment brand and a leading credit card issuer and acquirer in Japan. JCB launched its card business in Japan in 1961 and began expanding worldwide in 1981. Its acceptance network includes about 43 million merchants around the world. JCB Cards are issued mainly in Asian countries and territories, with more than 154 million cardmembers. As part of its international growth strategy, JCB has formed alliances with hundreds of leading banks and financial institutions globally to increase its merchant coverage and cardmember base. As a comprehensive payment solution provider, JCB commits to providing responsive and high-quality service and products to all customers worldwide. For more information, please visit: www.global.jcb/en/
Contact
Ayaka Nakajima
Corporate Communications
Tel: +81-3-5778-8353
Email: jcb-pr@info.jcb.co.jp
[1] GHG reduction agreement agreed at the 21st session of the Conference of the Parties to the United Nations Framework Convention on Climate Change (COP21/Nov-Dec 2015).
[2] Outcome document adopted at COP26 (Oct-Nov 2021).
[3] Scope 1 and Scope 2


Copyright 2023 JCN Newswire. All rights reserved. www.jcnnewswire.com