TOKYO, Oct 16, 2023 - (JCN Newswire) - Mitsubishi Heavy Industries, Ltd. (MHI), and two of its Group companies - Mitsubishi Heavy Industries Engine & Turbocharger, Ltd. (MHIET) and Mitsubishi Heavy Industries Air-Conditioning & Refrigeration Corporation (MHI-AC&R) - have commenced joint demonstration testing of a system that liquefies the CO2 captured from gas engine generator sets. It will accelerate the quest efforts to achieve carbon neutrality through offering the liquefaction system and related technologies.

In this demonstration testing program, CO2 from gas engine generator sets, forming a part of an in-house power station at MHIET's Sagamihara Plant, is captured by "CO2MPACT™," a compact CO2 capture system, and the CO2 is liquefied in MHI-AC&R's compact CO2 liquefaction system. Introducing expertise of the Research & Innovation Center which is in charge of R&D in MHI Group, the demonstration testing will target early practical application. Because liquefied CO2 has less volume than gaseous CO2 and is more transportable, it is expected to accelerate adoption of CCUS (Carbon dioxide Capture, Utilization and Storage).
In addition, verification of operational support services using MHI's proprietary remote monitoring system will be implemented in the CO2 liquefaction demonstration test program. It is the same verification as that for CO2 capture system which has already been underway in the demonstration test since 2022. The test program will lead to not only acquiring know-how relating to handling of liquefied CO2, but also creation of a fully integrated customer support system from CO2 capture to liquefaction.
MHI Group aims to achieve carbon neutrality by 2040, and the Company is now undertaking strategic initiatives toward decarbonizing the energy supply side. Establishing a CO2 solutions ecosystem that links diverse carbon emission sources with solutions for storage and utilization is a core aspect of these initiatives. The CO2 liquefaction demonstration test program will enable all processes, from CO2 capture to liquefaction, to be conducted applying MHI Group's comprehensive strengths. Going forward, MHI Group will continue further development of solutions, in a broad range of industrial fields including gas engine generator sets, that will contribute to environmental protection in response to the decarbonization needs of its customers and society, toward achieving a carbon neutral society.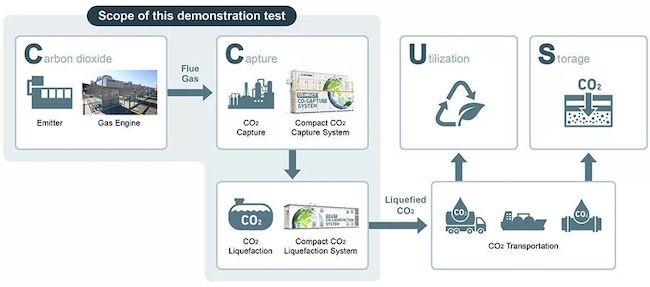 About MHI Group's CO2 capture technologies
MHI has been developing the KM CDR Process™ (Kansai Mitsubishi Carbon Dioxide Recovery Process) and Advanced KM CDR Process™ in collaboration with Kansai Electric Power since 1990. As of October 2023, the Company has delivered 15 plants adopting the KM CDR Process™, and three more are currently under construction. The Advanced KM CDR Process™ uses KS-21™, which incorporates technological improvements over the amine-based KS-1™ solvent adopted at all 15 of the commercial CO2 capture plants MHI has delivered to date. The advanced version offers superior regeneration efficiency and lower deterioration than the KS-1™, and it has been verified to provide excellent energy- saving performance, reduce operating costs, and result in low amine emissions.
For further information on MHI's CO2 capture plants: www.mhi.com/products/engineering/co2plants.html
About MHI Group
Mitsubishi Heavy Industries (MHI) Group is one of the world's leading industrial groups, spanning energy, smart infrastructure, industrial machinery, aerospace and defense. MHI Group combines cutting-edge technology with deep experience to deliver innovative, integrated solutions that help to realize a carbon neutral world, improve the quality of life and ensure a safer world. For more information, please visit www.mhi.com or follow our insights and stories on spectra.mhi.com


Copyright 2023 JCN Newswire. All rights reserved. www.jcnnewswire.com