MELBOURNE, AUSTRALIA, Aug 26, 2023 - (ACN Newswire) - Leading trading broker Mitrade continues its impressive track record and has won several awards and made innovative improvements this year. Recognized with two prestigious awards from the Global Banking Finance Awards: one for the "The Next 100 Global Awards 2023 – Trading Platform" and another for "Forex Customer Satisfaction & Happiness Asia 2023". On top of that, they've also received an award from World Finance as the "Best Multi-Asset Broker". This solidifies Mitrade's position as a frontrunner in the industry.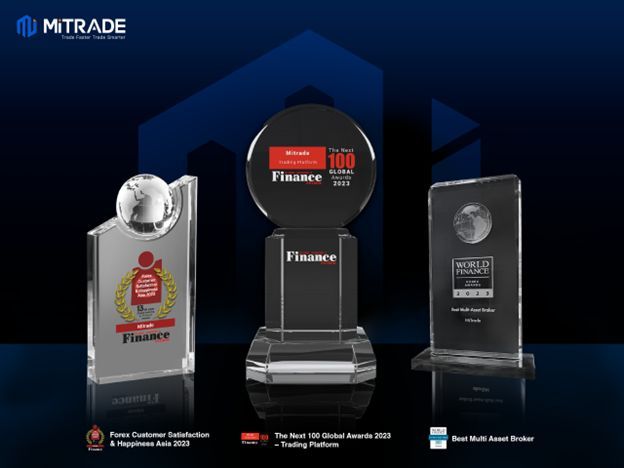 Earlier this year, Mitrade announced its recent branding upgrade "Trade Faster, Trade Smarter" and received two other awards, "Best Mobile CFD Trading Platform Asia Pacific" and "Fastest Growing Forex Fintech Broker Global" from Global Brands Magazine.
Mitrade's spokesperson shared: "At Mitrade, we have always believed in pushing boundaries and striving for the highest standards, crafting the ultimate trading experience for our clients. This recognition reaffirms that our efforts are making a positive impact on the industry. We're grateful to our clients for their ongoing support and for motivating us to keep getting better."
About Mitrade:
Mitrade is a leading global online CFD trading platform that offers a diverse range of financial instruments to traders worldwide. With over 400 markets to choose from, traders have unparalleled opportunities to engage in various assets, including stocks, commodities, currencies, and indices. Whether it's exploring the stock market, delving into the intricacies of forex trading, or navigating the world of commodities, Mitrade provides a comprehensive selection of trading products. For more information, please visit www.mitrade.com.
Social Links
Facebook: https://www.facebook.com/MitradeOfficial
Twitter: https://twitter.com/MitradeOfficial
LinkedIn: https://www.linkedin.com/company/mitradecom/
Instagram: https://www.instagram.com/mitrade_official/
YouTube: https://www.youtube.com/c/Mitradeglobal/
Media Contact
Brand: Mitrade
Contact: Media team
E-mail: branding@mitrade.com
Website: https://www.mitrade.com/
SOURCE:Mitrade


Copyright 2023 JCN Newswire. All rights reserved. www.jcnnewswire.com