JAKARTA, Oct 11, 2023 - (ACN Newswire) - PT Tunas Timber Lestari and PT Inocin Abadi, Papua-based Korindo Group subsidiaries and forest concession business license holders, have been awarded Sustainable Forest Management certificates from the Indonesian Forest Certification Cooperation (IFCC).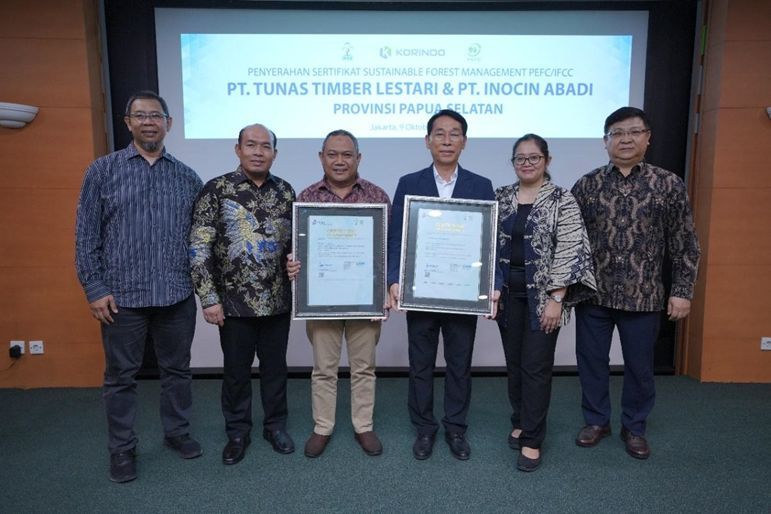 PT Tunas Timber Lestari and PT Inocin Abadi director Kim Young Cheol (third from the right) at the certification ceremony on Oct 9. [Image: Korindo]
The certificates were presented in a ceremony Monday, Oct 9, with PT Tunas Timber Lestari and PT Inocin Abadi executive director Kim Young Cheol, Korindo's Plantation Division general manager Kim Nam Hong, IFCC's executive director representative Ragita, and PT Mutuagung Lestari's director Sumarna.
The IFCC Sustainable Forest Management program, with PEFC-approved standards from the international framework for sustainable forest management (ITTO and PEFC), incorporates the concept of continuous improvement (Plan, Do, Check, Act). IFCC is a non-governmental organization which promotes and boosts sustainable forest management practices in Indonesia through certification meeting PEFC sustainable forest management benchmarks.
Both PT Tunas Timber Lestari and PT Inocin Abadi went through a lengthy process to obtain certification, including administrative selection and audits. At the ceremony, Kim said he was proud of their accomplishments. "We still have a long way to go when it comes to creating sustainable forests, but earning this certificate feels like a step forward."
Ragita appreciated the commitment from both firms in achieving sustainable forest management through IFCC certification. "With these certificates, we expect PT Tunas Timber Lestari and PT Inocin Abadi to set a strong example and encourage fellow forest operators, as well as help our forests become more sustainable and useful for society," she said.
This certification is a vital step in maintaining and enhancing forest management sustainability. Certified forest management will also contribute value to Korindo's product and improve acceptance in the global markets. With collaboration and shared commitment, Korindo believes its practices will continue to grow and provide long-term benefits for the environment, society, and its companies.
About Korindo
Korindo Group (Korindo) was established in 1969, and consists of companies engaged in the field of natural resources, industrial paper manufacturing, heavy industry, logistics, finance, and property. As one of the major corporate groups in Indonesia, Korindo has contributed significantly to the nation's development in various ways.
Visit: https://www.korindonews.com, and watch the video: www.korindo.co.id/group-profile/
Contact: pr@korindo.co.id


Copyright 2023 JCN Newswire. All rights reserved. www.jcnnewswire.com