Colombo, Sri Lanka, Oct 19, 2023 - (JCN Newswire) - StrategINK will host the Sri Lanka Edition of The Global Agility Summit, the leading DATA|AI|CLOUD conference, in Colombo on 3rd November 2023.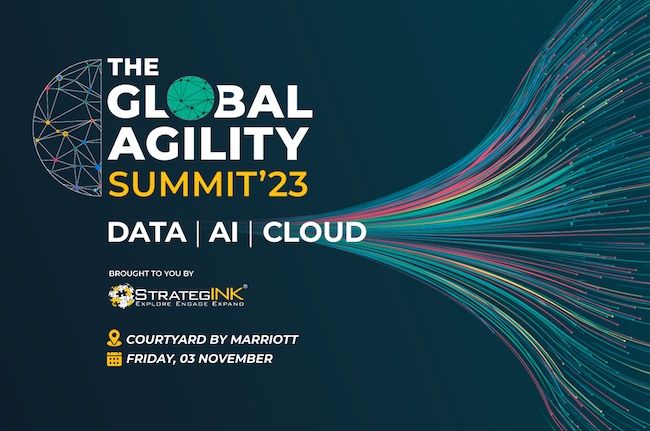 The summit will bring together 40+ subject matters experts and consultants as speakers and 200+ executives from SAARC Countries representing various sectors of industry, technology professionals, and members of the investment community, including those in: Executive management, IT, marketing/business development, product management, strategy and planning, financial services, and more. The event will serve as a platform to explore the latest advancements, trends, and real-world applications in the fields of data analytics, artificial intelligence, and cloud technologies.
The one-day conference will focus on how the trilogy of Data, AI and Cloud is enabling enterprise transformation.
Eminent industry speakers will share insights and best practices on topics including:
Digital Transformation: The Heart of Business Evolution Reimagining Cloud, Data & AI -Establishment of a Cyber-Resilient Enterprise Data's Role in Shaping the Metaverse Digital Twin: Providing Certainty in an Uncertain World Sustainable Development with Data, AI & Cloud
"In the heart of Sri Lanka, we are set to redefine the future with The Global Agility Summit, where Data, AI, and Cloud converge to shape the next era of innovation and transformation," said Vinod Singh, Managing Director, StrategINK Solutions. "Our goal is to catalyze impactful conversations and help organizations accelerate their digital transformation journeys."
To register or learn more about TGAS' Sri Lanka, visit: https://shorturl.at/ilT46
About StrategINK Solutions
A team of pragmatic and experienced Industry Experts, who passionately help Business Organizations (Buyers, Sellers, Business/Channel Partners) with a variety of services towards accelerating 'Business Innovation & Go-to-Market' pursuits. With our core offerings of 'Research based Business Insights', 'Content driven Marketing Solutions', 'Digital Transformation Consulting & Advisory', and 'Learning, Enablement & Skill augmentation Services', we catalyze & accelerate business transformation, digital led innovation, sales acceleration, skill enhancement, and customer delight. With our rich, diverse & hybrid model of digital and physical tools, techniques and industry proven frameworks and best practices, we develop unique solutions to address the complex business challenges of our clients and create compelling value through sustainable innovation.
For additional information, please contact:Manish SharmaChief Business Officermsharma@strategink.com


Copyright 2023 JCN Newswire. All rights reserved. www.jcnnewswire.com